My first taste of kimchi was a revelation…salty, acidic, crunchy, and searingly spicy with the heat from Korean red chiles. I still salivate at the memory of it.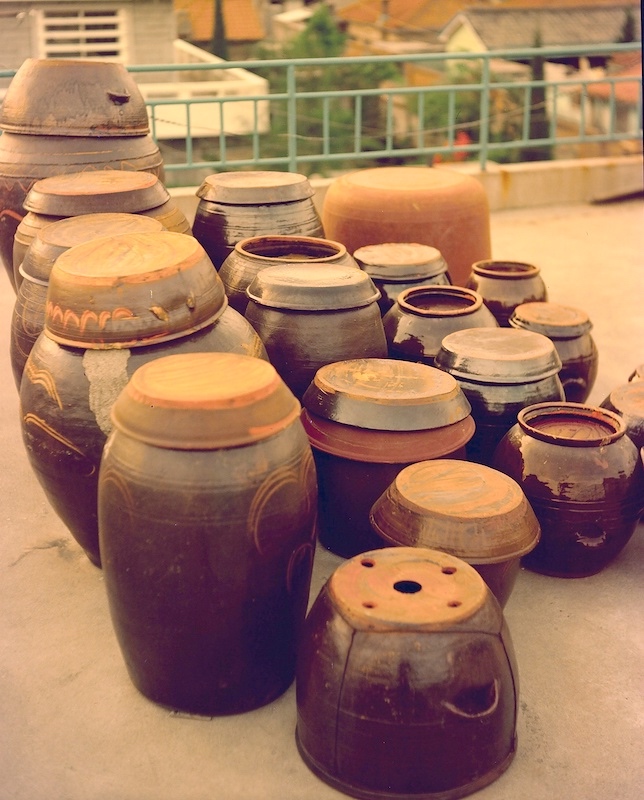 It was made by the mother of my host family in Daejon, South Korea, having fermented in loosely covered clay pots, called onggi, on the flat, exposed roof of their home alongside other mysterious concoctions that drew my curiosity with their richly funky, exotic smells, aromas that were as foreign to my middle-class American palate as tuna noodle casserole and Swiss steak would be to my host family.
I seem to recall the family eyeing me suspiciously as I lifted the chopsticks containing that first bite to my lips, not sure how the big American girl they'd taken into their home might respond. Would she scream? Gag? Run out of the room?
They were probably relieved, if maybe a bit disappointed, that none of those happened, though I remember my lips burning by the end of the meal of fish, wok-seared greens and kimchi. It helped that there was plenty of rice and traditional scorched-rice tea (sungnyung) to help mitigate the fire of the chiles, but I was intrigued.
Since that college trip I've been wanting to recreate the taste that was almost literally seared into my memory 40 years ago, and my experiences with fermentation made me pretty confident I could do it without killing or sickening my friends or family.
So when I found out that my friend Denise was willing to help me make it from the recipe her sister had transcribed from her mother Betty Ann's recipe—one that Betty Ann had learned from her mother, Annie—I was all in. (Read the story of Annie Mah's odyssey and get her recipe for gochujang.)
It began with Denise and I making a trip to one of the city's many large Asian supermarkets to get the coursely ground Korean red peppers, or gochugaru, that is the critical ingredient in kimchi, one that cannot be substituted if your goal is to make the real deal. I'd already picked up the Napa cabbage, daikon and carrots, my preferred mix of vegetables—though the recipe just calls for five pounds of whatever suits your tastes.
Remarkably simple, Denise's family recipe is fairly mild as kimchi goes, confirmed when her relatives sampled my second attempt in which I'd upped the cayenne quotient, making it more like the version I'd had in Korea. Mind you, they liked it, but as her Aunt Else said afterwards, clapping me on the shoulder, "You make it like a Korean would!"
High praise, indeed!
Kimchi (Kim Chee)
Adapted from Betty Ann della Santina's recipe by her daughter, Cynthia Forsberg.
For the brined vegetables, any of the following, about five pounds total:
Daikon, shredded or chunked
Napa or green cabbage, chunked
After brining the vegetables above overnight, add as many of these as you want:
Green onions, sliced in half or quarters lengthwise, cut crosswise in 2 to 3-inch lengths
Yellow onions, chunked
Carrots, shredded
For the paste:
1/2 c. fine to medium crushed Korean red pepper flakes (gochugaru)
3-inch piece ginger peeled and grated (with juice)
5-7 large juicy garlic cloves, crushed
2-3 Tbsp. shrimp powder, shrimp paste, or fish sauce, or a combination
2 tsp. sugar
1/2 c. water (only enough to make into paste)
Soak cabbage and daikon in brine of 1 c. salt mixed in one gallon water for 14-24 hours. The next day, rinse thoroughly in cold water. Drain vegetables and press out most of the remaining water.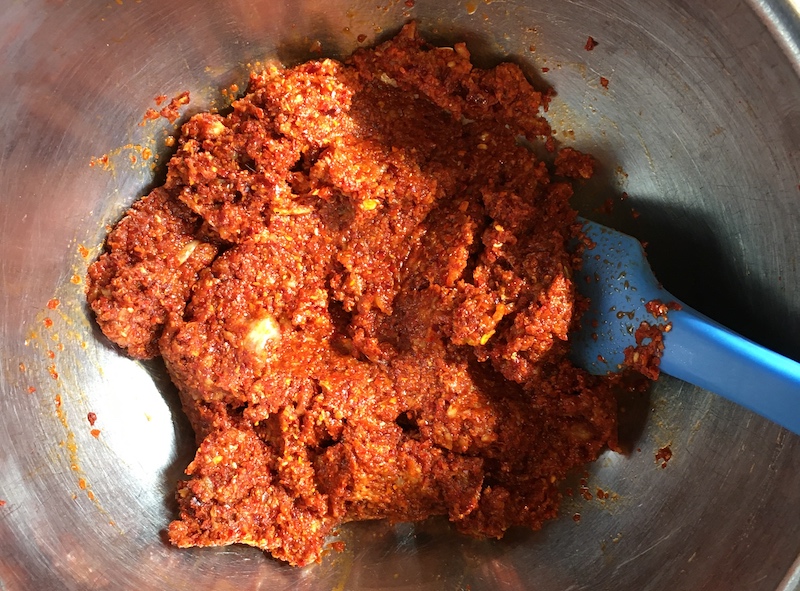 Mix together red pepper (gochugaru), grated ginger, crushed garlic, shrimp powder (or fish sauce), sugar in a large bowl with just enough water to make a thick paste.
Add brined and cut vegetables to the paste and mix thoroughly. Press into clean wide-mouth quart (or pint) jars. Press down firmly, allowing 1" space at top, and close the lid tightly, allow to ferment at least 24 to 36 hours on the counter.
[Fermentation time can vary depending on temperature and other factors. I allowed mine to sit in the basement for 5 to 7 days, and started to taste it after the third day until it had developed the "funky" taste I wanted. - KB]
Store in refrigerator.
Posted on April 29, 2022