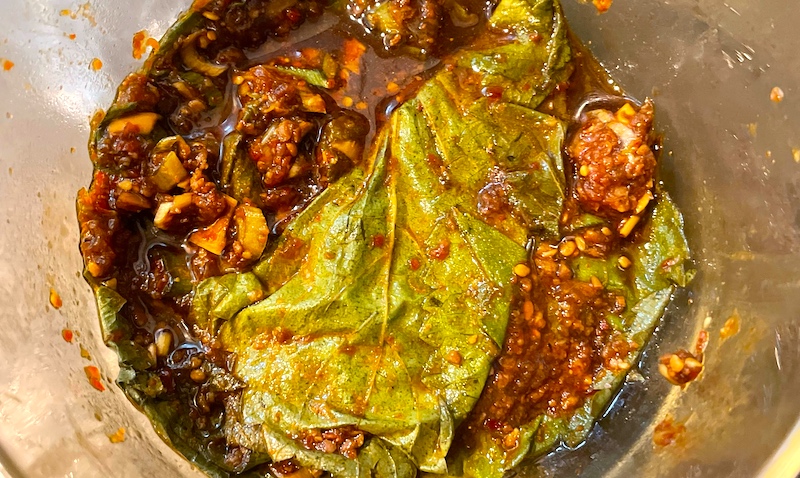 Okay, so this recipe is hitting on several cylinders at once for me. It's Korean, a cuisine I'm exploring these days—see the recipes for Kimchi and Gochujang I've written about recently—and it fits into the category of banchan, a collective name for small, pungent side dishes served with rice. And, like kimchi, it's a fermented food, a category that scared the dickens out of me for most of my life due to the dire warnings of my mother, who had the misfortune to major in dietetics in college at a time when anything that wasn't cooked within an inch of its life was sure to kill you on the spot.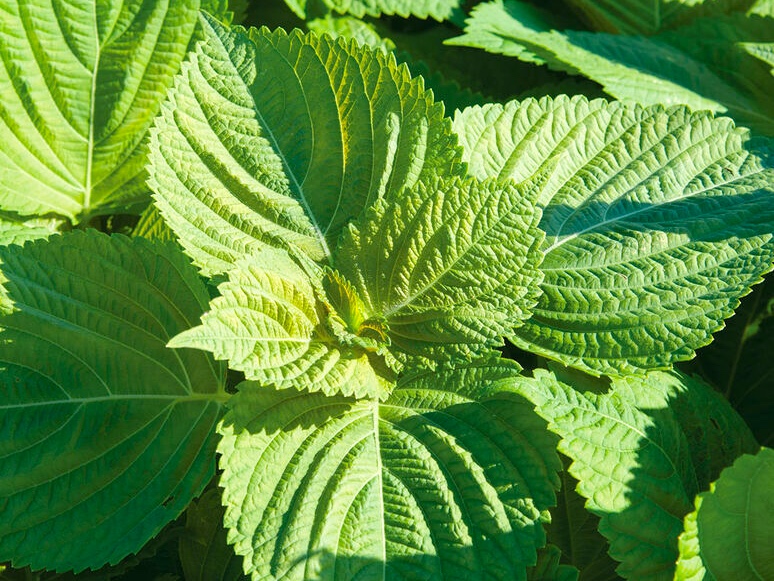 It's made using shiso leaves, halfway between a leafy green and an herb that the New York Times described as "a mysterious, bright taste that reminds people of mint, basil, tarragon, cilantro, cinnamon, anise or the smell of a mountain meadow after a rainstorm." (Ooooookay…?) I'd say it's flavor is on the same spectrum as cilantro: definitely pungent, with a slightly minty twang. Shiso is, for me, a little strong to use in a salad, for instance, but the process of fermentation and the other ingredients in the brine—soy, ginger, garlic and the Korean ground peppers called gochugaru—seem to tame its somewhat, shall we say, overpowering personality.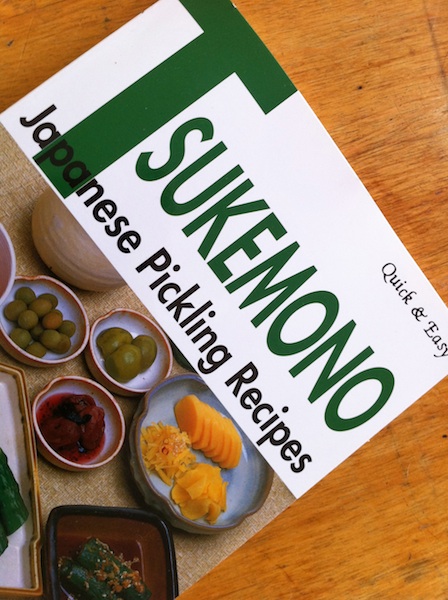 The recipe is adapted from a book I absolutely love, Tsukemono: Japanese Pickling Recipes by Ikuko Hisamatsu, a collection of quick, easy recipes for everyone from beginners to masters. It was recommended to me by Kevin Gibson of Portland's Davenport restaurant when I asked about good books on pickling, since I'd known about his fascination with the art from his days at Evoe, where he had a literal bank of large, colorful jars of pickled items displayed on the front counter.
Another nice thing about this particular ferment is that it only takes overnight to work its magic. Plus it only makes a small amount, since the leaves shrink mightily in the process, so you're not stuck with jars and jars of the stuff hanging around in the back of the fridge.
So far a small chiffonade has accented rice dishes, a curry, grilled fish and even deviled eggs. I'd say that's a darn good start!
Fermented Shiso Leaves in Soy Sauce
Adapted from Tsukemono: Japanese Pickling Recipes by Ikuko Hisamatsu
30-40 shiso leaves
1/4 c. soy sauce
1 Tbsp. toasted sesame oil
1 Tbsp. gochugaru (Korean ground red pepper)
1 tsp. garlic, minced
1 Tbsp. green onion, minced
1 tsp. ginger, finely grated
2 tsp. fish sauce
1 tsp. sugar
Gently wash leaves under running water and pat dry with paper towels.
In a small mixing bowl combine soy sauce, sesame oil, gochugaru, garlic, green onion, ginger, fish sauce and sugar. Stir to dissolve sugar.
Lay leaves in several layers in a small flat-bottomed dish. Spoon pickling liquid over the top. Place a slightly smaller dish on top and put a weight in it (I used a can of beans) to press it down. Let stand for one hour and remove the weighted dish, scraping off any pickling liquid that sticks to it. Cover with lid or plastic wrap and let the dish sit on the counter overnight. The next day put it in the refrigerator. It should keep for at least a couple of weeks, if not longer.
Posted on August 29, 2022