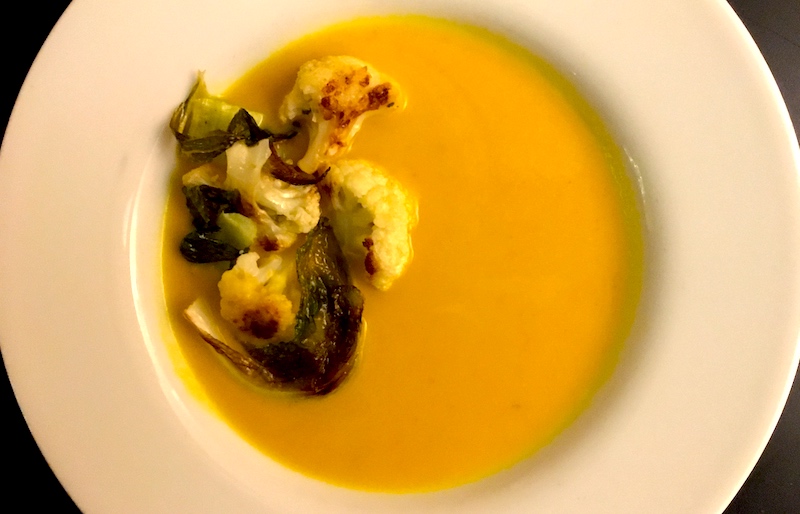 Like stir fries or macaroni and cheese—see my previous post—soup is an ideal vehicle for making a simple, quick, warming winter dinner for a family out of what you have on hand, a skill that is increasingly necessary in a pandemic when dashing to the store for this or that isn't advisable.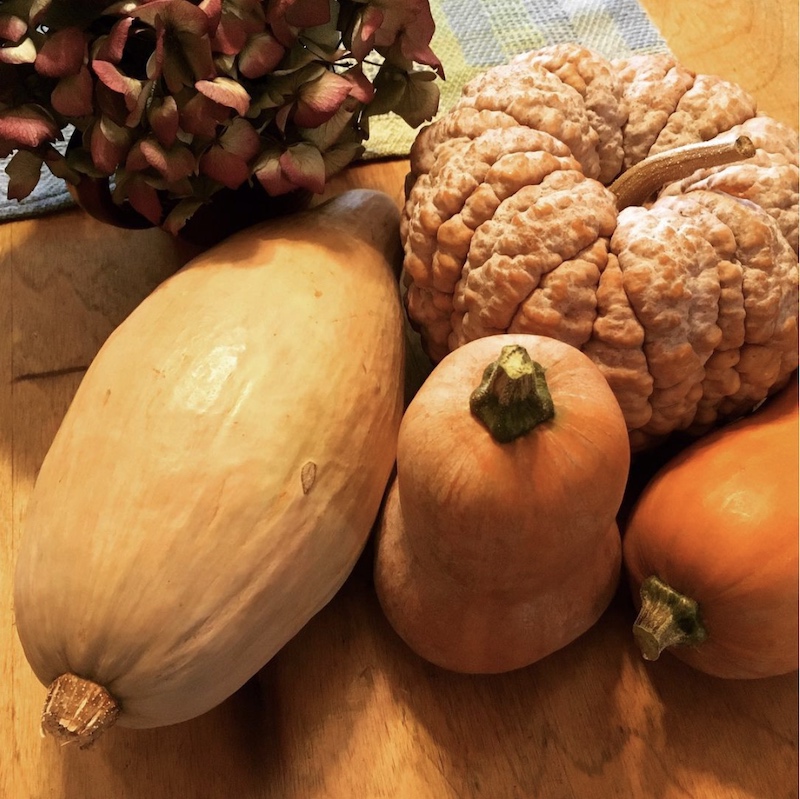 Take a look around. Are there a bunch of odds and ends in your vegetable bin that are looking a little tired and wrinkly? Chop them up, grab a can of tomatoes and make a minestrone soup! How about those bits of leftover rotisserie chicken? Chop an onion and a carrot, pull out some stock and your soup pot, maybe add a potato or some dried pasta, and make chicken soup.
The other evening I had, as usual, no idea what to make for dinner but there was a smallish Sibley squash sitting on the counter that my neighbor Bill grew, so I roasted it and scooped out the flesh. Digging around in my pantry, I found a can of coconut milk, and I remembered seeing a baggie of curry leaves in the freezer that my friend Denise had shared with me.
With a quart of stock I'd made from the carcass of a roasted chicken earlier in the week and some zhooshing from my (admittedly) overflowing condiment shelf, the emerging Thai-inflected soup was well in hand.
I'd also run across a head of cauliflower in the fridge that was going brown in spots (easily remedied by simply scraping them off), so I threw it in the still-warm oven to get crispy and to provide some textural contrast to the creamy soup.
I'm hoping some of these skills will transfer to life after COVID when we won't have a second thought about making a trip to the store. (Promise me that time will come, though, won't you?)
Thai-ish Curried Coconut Squash Soup with Roasted Cauliflower
For the soup:
2 Tbsp. vegetable oil
1 onion, chopped in 1/2" dice
3 cloves garlic, roughly chopped
4 c. roasted squash*
1 qt. chicken or vegetable stock
1 15-oz. can coconut milk
1-2 Tbsp. Thai & True red curry paste or 2 Tbsp. curry powder plus 1/8 tsp. cayenne
1 Tbsp. fresh grated ginger
2 tsp. turmeric
1 Tbsp. fish sauce
6-8 curry leaves or 2 kaffir lime leaves or grated zest of 1 lime
Salt to taste
For the cauliflower:
1 head cauliflower, cut into small florets; chop any leaves into 1" pieces and stem into 1/2" dice
2 Tbsp. olive oil
1 tsp. salt
Preheat oven to 400°.
In a large soup pot or Dutch oven, heat oil over medium-high heat until it shimmers, then add onion and garlic and sauté until tender. Add curry paste (or curry powder and cayenne, if using) and turmeric and sauté until it bubbles. Add remaining ingredients and combine. Bring to a boil and reduce heat to simmer.
Place cauliflower florets, stem pieces and chopped leaves into a large mixing bowl. Drizzle with olive oil and sprinkle with salt. Stir to combine, then put on sheet pan. Place in oven and roast for 30-40 minutes until tender and well-browned. Remove from oven and set aside.
Take soup off heat and remove curry leaves (or kaffir lime leaves, if using). Using an immersion blender, purée the soup until smooth. (Pro tip from a chef friend: If using a blender to purée the soup, remove the pot from the heat and allow to cool slightly. Blend in smaller batches, making sure to place a cloth over the lid of the blender and holding it down with one hand.) Replace puréed soup in pot and adjust seasonings, adding more fish sauce or salt as needed. Return to heat and keep warm until ready to serve.
To serve: Ladle soup into shallow bowls and arrange curry florets and leaves along one edge. You can also sprinkle with roasted pumpkin seeds, drizzle a few drops of sriracha, add a grinding of fresh pepper or whatever appeals to you.
* Pretty much any "winter" squash will do, including acorn, butternut, Sibley, kabocha or the like. Simply halve, scoop out the seeds and bake cut side down in a 400° oven for 30-40 minutes until tender. Scoop out meat. Learn more about winter squash here.
Find a myriad of soup recipes for inspiration, and even more here!
Posted on December 15, 2020