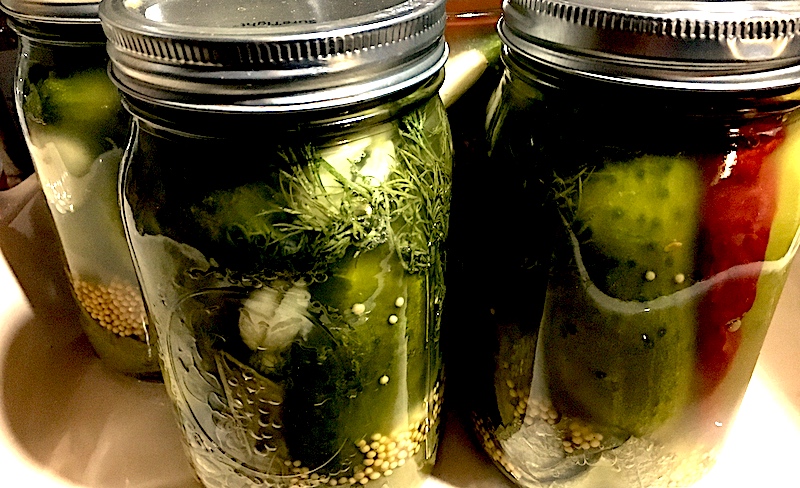 My 10-year-old nephew was coming over to spend the day, and while he's pretty low-maintenance—Legos and our vast collection of books, everything from Tintin to Narnia to Bulfinch's Mythology seem to keep him occupied—it's always fun to do a project together. That's when I noticed the bunch of cucumbers from my neighbor Bill that were needing to be used.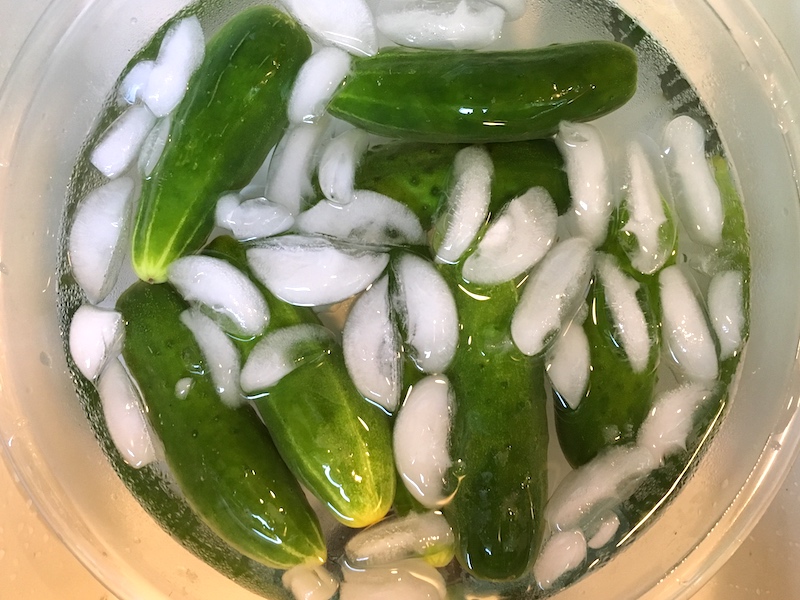 The cukes were the bumpy, prickly kind good for pickling, though they were larger than I normally think of for dill pickles and I was a little nervous about being able to jam them into the quart jars I had. But heck, there's a reason it's called a science experiment, so I washed the jars and stuck the cucumbers in an ice bath to firm them up.
When my nephew arrived, we read the instructions for making pickles in the extremely informative and useful "The Art of Fermentation" by Sandor Ellix Katz, a tome suitable for fermentation nerds and newbs alike. As we let his words settle in, we walked around the corner to my neighbor's garden to pick grape leaves, which Katz recommends adding to the jars. Apparently the tannins they contain help to keep the pickles crisp, and with grape season in full swing there were plenty to choose from. (Katz also mentions that horseradish leaves, oak leaves, cherry leaves or other tannin-rich materials can do the same job.)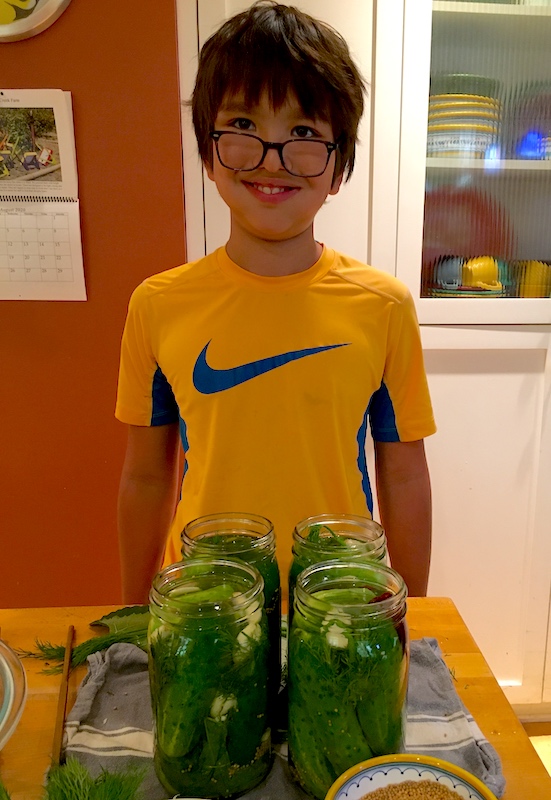 Back home with our leaves, we gathered the ingredients to add to the pickles, including fresh dill, garlic and peppercorns, plus mustard seeds and dried chiles from Ayers Creek Farm. We measured the salt into two quarts of water for the brine, and while my able assistant stirred it to dissolve the salt, I cracked the peppercorns and peeled the garlic.
All that was left was to jam the cukes into the jars with whatever struck our fancy—I confess mine were probably more than a little garlic-heavy—and to fill the jars with brine. We placed canning lids on top and loosely screwed on the bands to allow gas to escape as fermentation progresses. It can also include some liquid bubbling out, so we prudently placed the jars in a baking dish before taking them down in the basement to ferment for a few days.
A couple of days later I was able to report to my nephew that not only had their color begun to change, there was noticeable bubbling and a tiny bit of liquid had escaped. The fourth day there was more bubbling, the brine was slightly cloudier, a larger puddle of brine had formed and there was a distinct vinegar aroma wafting over our jars.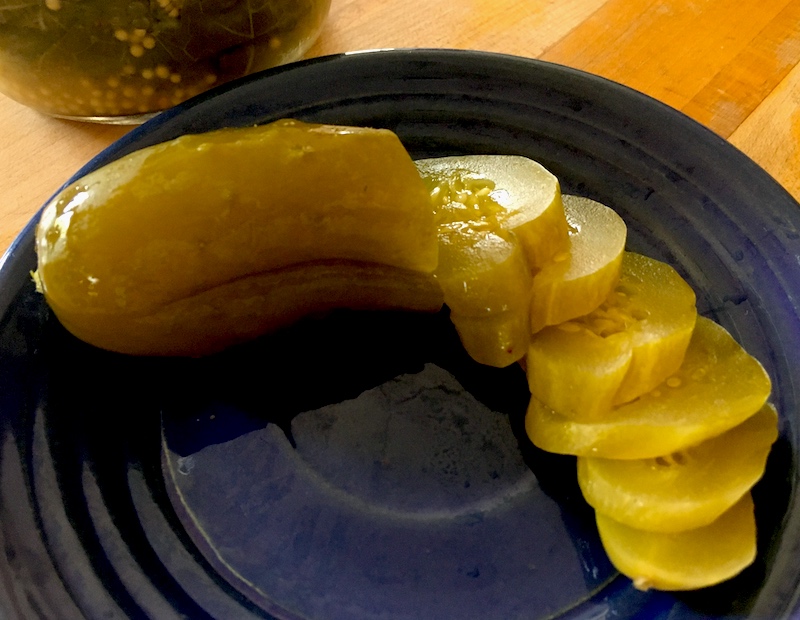 I waited a full week before pulling out a jar to taste them.
Fresher and a bit milder than most store-bought brands, our pickles were nicely crunchy with a tart, light vinegar flavor that was infused with garlic, dill and mustard.
On his next visit, one jar went home with my nephew and the rest are sitting in our refrigerator—lacto-fermented pickles are not shelf stable—awaiting our next antipasto platter, hamburger extravaganza or albacore salad.
Basic Lacto-Fermented Garlic Dill Pickles
2 lbs. pickling cucumbers
12 medium-sized grape leaves
Mustard seeds
Garlic cloves, peeled
Bunch fresh dill or dill flowers
Dried red chiles
Peppercorns, lightly crushed
Sea salt
Wash four quart jars. Wash cucumbers, rub off the prickly bits and place cukes in an ice bath for one hour.
Make a 5 percent brine by dissolving 6 tablespoons of sea salt in two quarts of water. Set aside.
Start with a grape leaf in the bottom of each jar, then tightly pack in the cucumbers with one or two more leaves and a variety of flavoring ingredients. Leave an inch or so of head room above the cucumbers, then add brine to within 1/2 inch of the lip of the jar.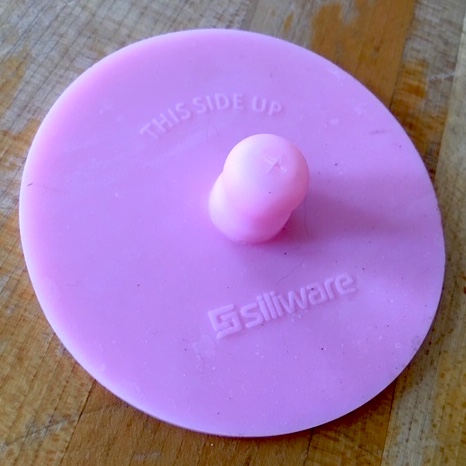 Place a canning lid, coffee filter, or a device called a "pickle pipe" airlock (right) on top, then loosely screw on a jar band. The idea is to allow gas to escape during fermentation, so you don't want to seal it completely or the pressure buildup could cause it to blow off.
Watch for color change, bubbles and cloudiness. A spongy mold may form on top, but you can just pull that off and dispose of it…the pickles should be fine as long as they have stayed submerged and they still smell good (that is, pickley). After five days, pull a jar and taste one of the pickles. If it's not pickled enough, put the lid back on and let it ferment another day or two (temperature plays a big part in the time it takes to ferment).
When pickles are to your liking, store in refrigerator for several months.
Posted on October 6, 2020