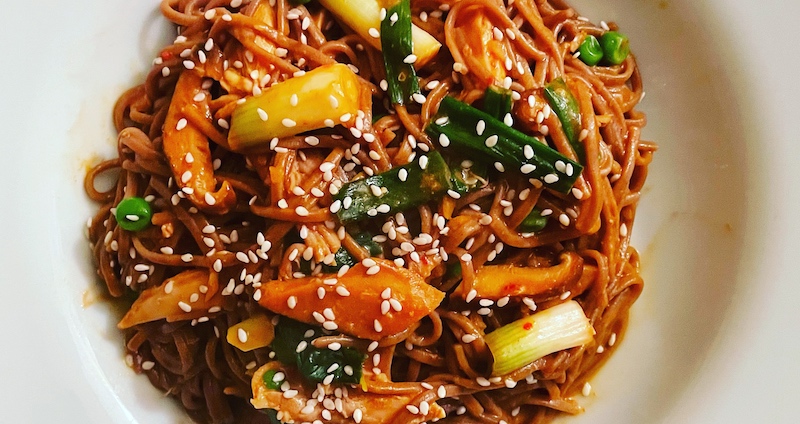 Gochujang is making an appearance more and more often on our table, ever since my friend Denise shared her family's recipe for the jammy, spicy, deeply umami-esque red pepper paste that is ubiquitous in Korean cooking.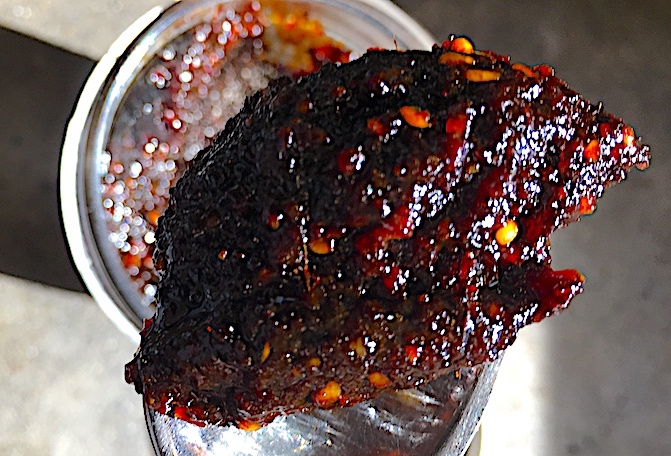 My fascination with it reminds me of the time, years ago, when Mark Bittman would wax poetic in his New York Times columns about Spanish pimentón, confessing in one column that he "may be at the point where I use more pimentón in my cooking than anyone in Spain."
So I was thrilled when my brother, who's not a big fan of Korean cuisine but graciously accepts that I am, was moved to send me a recipe he'd run across in Bon Appétit by Zaynab Issa for a garlic-laden gochujang noodle dish. I'm pretty sure I immediately ran to the cupboard to check on our noodle situation, finding soba noodles but not the mein, udon or ramen specified in the recipe.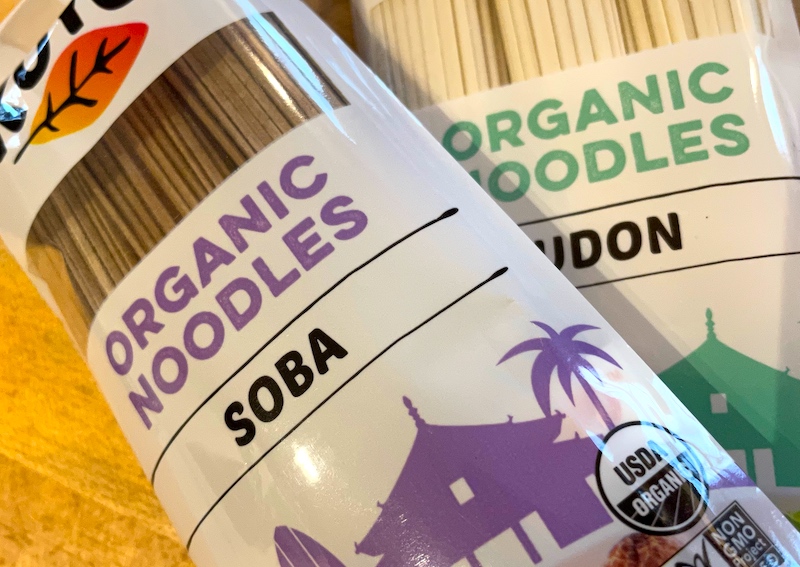 Undeterred, I rationalized that the buckwheat noodles would be a hearty counterpoint to the red pepper paste—and that no one would object too strenuously to this detour from a recipe, especially if I didn't mention it. I also didn't have the broccoli rabe called for in the recipe, but I did have carrots, scallions, garlic and frozen peas from the previous summer.
Stirring together the ingredients for the sauce, with a couple of tweaks to the recipe, took just a few minutes. As always, chopping the vegetables took a bit more than that, but fewer ingredients (and those ready-to-cook peas) makes it simpler. A few minutes of sautéing, then pouring in the sauce and mixing in the already-cooked noodles until they were heated through made this easily a less-than-30-minute meal.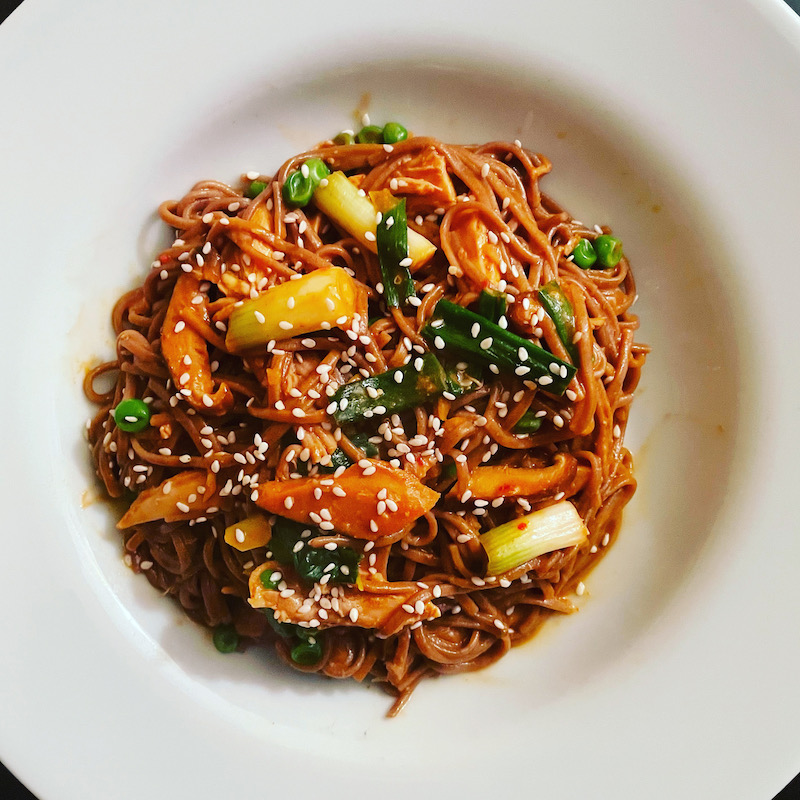 Next time I'm going to get some locally made Umi Organic ramen or yakisoba, but dried udon noodles (photo, above right) or even spaghetti would work. Plus it's infinitely adaptable depending on what you find in your veg bin. And adding some oomph by throwing in cubed tofu, or leftover roast chicken, pork or beef wouldn't be a bad idea, either.
The key is in that sauce, which I can see coming in handy for everything from chicken wings to marinades. Stay tuned!
Make your own gochujang from my friend Denise's family recipe. It's easy to do if you have a couple of hours, it makes enough to last for months and is so much more flavorful than store-bought!
Gochujang Noodles
For the sauce:
4 Tbsp. gochujang
1 Tbsp. soy sauce
2 Tbsp. light or dark brown sugar
2 Tbsp. tahini (raw sesame butter)
1 Tbsp. toasted sesame oil
1 Tbsp. fish sauce
For the noodles:
8 oz. dried soba noodles
3 c. chopped vegetables (raab, bok choi, carrots, kale, peas, cabbage, scallions or whatever you have on hand)
6 cloves garlic, chopped fine
1/2 c. stock (chicken, pork or vegetable)
1/2 block cubed tofu and/or 1 c. cooked meat (optional)
1 tsp. sesame seeds for garnish (optional)
Cilantro, chopped fine for garnish (optional)
1/2 lime, sliced into wedges, for serving (optional)
Bring water to boil in medium saucepan. Cook noodles for 4 minutes. Drain and rinse under cool running water.
Whisk gochujang, soy sauce, brown sugar, tahini, sesame oil, fish sauce and 2 Tbsp. water in a small bowl to combine; set aside.
Heat vegetable oil in a wok or large nonstick skillet over medium-high. Add vegetables and garlic and sauté until crisp-tender, about 2 minutes. Add sauce and cook, stirring often, until thickened slightly, about 2 minutes. Add tofu or cooked meat, if using, then add noodles, tossing gently until heated through, about 1 minute; add stock if it seems too thick. Serve directly from cooking pot or serve individually in bowls, garnishing with sesame seeds and cilantro. Place lime wedges in a bowl on the table for drizzling over servings.
Posted on March 30, 2023