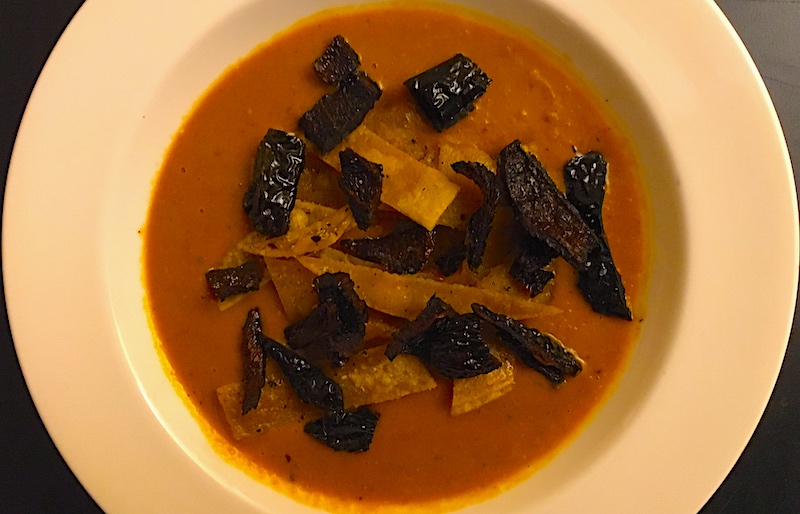 We've been blowing through series television lately—rewatching the entire umpteen seasons of Deep Space Nine, being charmed by the more recent Ted Lasso and drawn in by the Canadian show Kim's Convenience—and, when we need a break, watching a documentary here and there. Recently we took in a biography of Diana Kennedy, the famed English-born authority on Mexican cooking, filmed in her home in the hills of the state of Michoacán and who, in her 96th year, is still as feisty and fiery as ever.
It was twenty years ago that our son took a three-week foreign studies tour to the town of Morelia in Michoacán, a city of almost a million not far from Ms. Kennedy's home. He and five of his fellow high school students from his Spanish class stayed with Mexican host families in the city, taking language classes and touring the area with their teacher.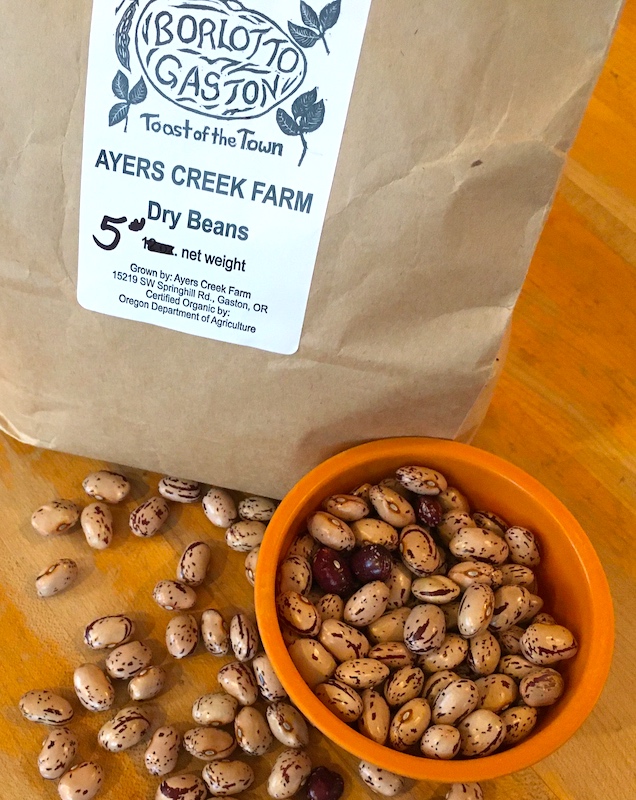 The other students were mostly consumed with going to bars (though the official drinking age was 21), eschewing Mexican food in favor of hamburgers and pizza. Our son was more intrigued with exploring Mexican regional specialties like the varieties of moles—he still waxes poetic about one exceptionally bitter version—as well as a garlic bread soup called Sopa de Ajo and another, a puréed bean soup called Sopa Tarasca. (His teacher was quite impressed.)
After watching the documentary about Kennedy, I was browsing through my not-insubstantial collection of her cookbooks and came across a recipe for that very bean soup. I happened to have a quart of cooked borlotto beans from Ayers Creek Farm left over from a dinner earlier in the week, so it presented an opportunity I couldn't well refuse.
Sopa Tarasca is named after the Tarascan Indians of Michoacán—the popular, if somewhat derogatory, name for the indigenous Purépecha culture which continues to maintain a significant population of nearly 200,000 in the state. It is a deeply flavorful bowl of puréed beans, tomatoes and chiles topped with fried chiles, tortilla strips and other condiments.

The soup itself is a fairly simple affair and comes together quickly, and the idea of the fried chiles crumbled on top will come in handy in the future as a crunchy topping for salads, tacos, nachos, dips or other dishes needing a crispy, smoky saltiness. See what you think!
Sopa Tarasca (Tarascan Bean and Tomato Soup)
Slightly nodified from a recipe in The Cuisines of Mexico by Diana Kennedy
For the toppings:
Vegetable oil (canola or grapeseed)
3 dried chiles pasilla (dried ancho chiles work here, too), cut with scissors into small pieces
4 corn tortillas cut into strips
Queso fresco, crumbled
Sour cream
For the soup:
2 dried ancho chiles
2 medium tomatoes or 1 1/4 c. roasted tomatoes
3 cloves garlic
1/4 onion
3 Tbsp. lard or filtered bacon drippings
4 c. cooked pinto or borlotto beans with their liquid
2 1/2 c. pork or chicken stock
1 tsp. oregano (preferably Mexican oregano)
Salt to taste
For the condiments, place large frying pan over high heat and pour in 1/2" or so of vegetable oil. When a small piece of tortilla strip is dropped in and sizzles with lively bubbles, it's hot enough. Put half of the tortilla strips into the oil and brown slightly, remove them from the oil with a wire scoop (spider) onto paper towels. Salt as soon as they come out of the oil. Repeat with remaining half of tortilla strips. While tortilla strips cool, put the pasilla chile pieces into your wire scoop and submerge in hot oil for three seconds. Remove to paper towels and salt.
In a heat-proof bowl, tear the ancho chiles into pieces, removing the seeds and veins. Add one cup boiling water and soak for 20 to 30 minutes.
In a food processor, blend the tomatoes, garlic and onion into a smooth purée. Melt the fat in a large Dutch oven or soup pot over high heat. Pour in the tomato purée, being careful since it may splatter when the mixture hits the hot fat. Cook for 5 minutes, stirring to make sure it doesn't stick. While the tomato mixture cooks, purée the beans, bean liquid, softened ancho chiles and their liquid in the food processor. Turn down the heat under the tomato mixture to medium-low and stir in the the bean purée and oregano. Cook for another 8 minutes, stirring frequently to keep it from sticking.
Add stock and stir to combine. Add salt to taste. Simmer on very low heat, stirring frequently, until ready to serve. This is supposed to be a thick soup, and it will thicken as it simmers, but you can add more stock as needed to get it the consistency you prefer. Serve with crumbled cheese, sour cream, tortilla strips and fried chiles.
You can also make the soup ahead of time, then fry the tortillas and chiles while you reheat the soup.
Posted on February 7, 2021