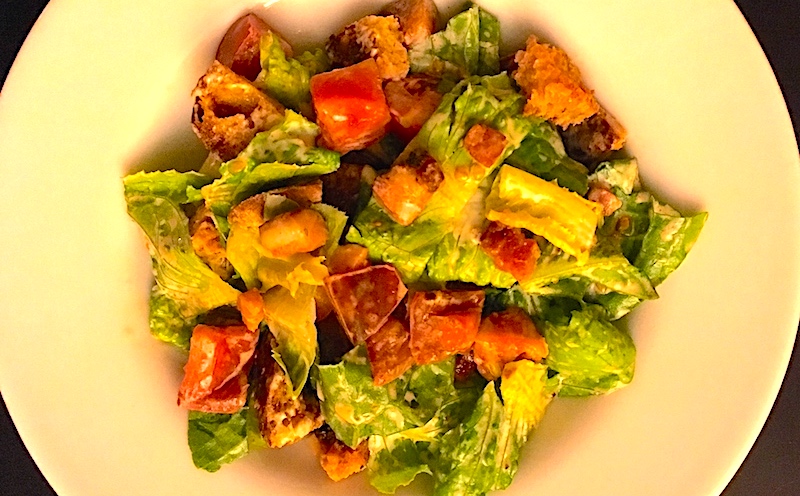 We're heading into the height of summer and, along with an avalanche of fruit and vegetables cascading in from local fields, we're also going to be hitting some mighty warm temperatures in the coming weeks. Gorgeous weather? You bet! But 100 degrees is not the time to be pulling out the braising pot or turning on the oven.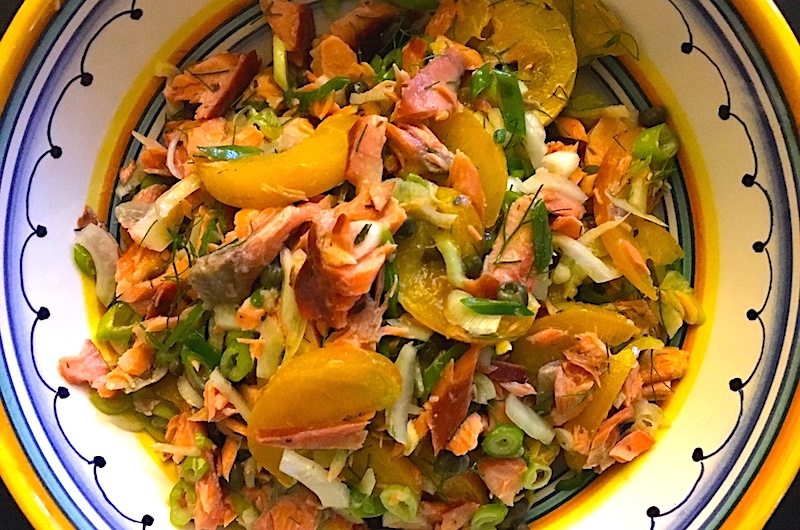 And while grilling is a good solution to beating summer's heat when you need to put dinner on the table, it's good to vary the rotation, too. Which is where a back-pocket selection of simple dinner salads can come into play.
You don't have to heat up the house with hours of cooking, since most grains only need a half hour or so to get tooth-tender. Even soaking a pound of beans overnight then simmering them for an hour first thing in the morning can give you enough for a week's worth of meals.
I've put together a list of my favorite summer salads to keep your cool during the upcoming summer weather. Any would make a filling dinner all their own, and a couple could be a terrific complement to whatever you've got grilling.
Leftover Salmon Salad
2-3 c. leftover salmon, flaked
1/2 med. bulb fennel, sliced thinly
1 Tbsp. fennel fronds, chopped
2 med. plums, halved and sliced thinly
1-2 Tbsp. capers
2 green onions, sliced thinly
3 Tbsp. pine nuts, toasted
2 Tbsp. olive oil
Juice of 1/2 lemon, added to taste
Salt, to taste
Put salmon, fennel, fennel fronds, plums, capers, green onions and pine nuts in large mixing bowl. Drizzle olive oil over the ingredients and add half of lemon juice. Toss gently to combine but don't break up the salmon too much. Adjust lemon juice and add salt to taste.
This would be a great lunch salad or light entrée served on a bed of fresh-from-the-garden (or farmers' market) lettuce. It would also be terrific combined with pasta or a cooked grain like farro, barley or parched green wheat (frikeh).
---
15-Minute Ramen Noodle Salad with Kimchi
For the dressing:
1/3 c. canola or peanut oil
2 Tbsp. rice vinegar
1 Tbsp. garlic
2 tsp. tamari
2 Tbsp. white miso
1 tsp. gochugaru (optional)
1 tsp. roasted sesame oil
For the salad:
12 oz. fresh ramen noodles (not dried)
1/2 c. kimchi, chopped
1 Persian cucumber (can substitute 1/2 c. chopped English cucumber)
1 Tbsp. chopped chives for garnish
Bring a pot of water to rolling boil.
While the water is heating, make the dressing by placing all ingredients in a blender and blend at high speed until well puréed.
When the water comes to a boil, gently pull apart ramen noodles while adding them to the water. Tease the strands apart with chopsticks while the water returns to a boil and reduce heat to simmer. Cook for two minutes, stirring occasionally to keep noodles from clumping. When they're done, drain them in a colander and rinse in cold water to stop them from cooking further.
Chop kimchi into bite-sized pieces. Quarter the cucumber and slice crosswise into 1/8" slices. Place noodles, kimchi, cucumber and dressing in serving bowl and combine. Garnish with chives.
---
Corn Salad with Avocado Crema
For the corn salad:
1 15-1/2 oz. can black beans, drained and rinsed
4 ears corn, kernels sliced fresh off the cob
1/2 red onion, halved lengthwise and slivered crosswise
1/2 large cucumber, seeded and diced, or two small Persian cucumbers, chopped
1 large ripe tomato, chopped (about 2 c.)
1 Tbsp. fresh-squeezed lime juice
1 Tbsp. olive oil
Salt to taste
For the avocado crema:
1 c. milk
1 clove garlic
2 avocados
2 Tbsp. lime juice
1 c. sour cream
Salt to taste
In a large mixing bowl combine the black beans, corn kernels, onion, cucumber and tomato. Pour in the lime juice and olive oil and stir gently to mix.
In the bowl of a food processor pour in the milk and add the garlic, avocados and lime juice. Process until completely smooth, scraping down the sides as necessary to incorporate all the ingredients. Add sour cream and pulse until just mixed, then add salt to taste.
The crema makes nearly four cups, which is more than enough to serve a small amount alongside the salad, but it is also spectacular as a dip for chips or in tacos or burritos. It'll keep for at least a week stored in the fridge, so don't be afraid to make the whole batch. (It can also be halved if you don't want to make the whole amount.)
---
Nectarine and Cherry Salad with Roasted Hazelnuts
1 1/2 lbs. nectarines (yellow or white) sliced
1 1/2 c. Bing cherries, pitted and halved
1/2 c. roasted hazelnuts, roughly chopped
Combine all ingredients (reserving some chopped nuts) in a bowl and toss. Garnish with remaining hazelnuts.
---
BLT Salad
Adapted from Jim Dixon of Real Good Food
For the salad:
2 c. stale bread, cut in 1" cubes
4 oz. sliced bacon, cut crosswise in 1/4" pieces
3 medium-sized tomatoes, chopped in 1" cubes
1 small head iceberg lettuce or 1 medium head romaine, chopped
For the dressing:
1/4 c. mayonnaise
2 Tbsp. apple cider vinegar
2 Tbsp. olive oil
3 Tbsp. buttermilk or whole milk
1 Tbsp. Dijon mustard
Salt and pepper to taste
To make this more-than-just-a-tomato salad-with-bacon, start by cooking about a quarter pound of good bacon until it's crispy. Set the bacon aside and add a couple of handfuls of cubed bread to the bacon fat. If there's not enough to really coat the bread, add some extra virgin olive oil. Toast the bread until it's lightly browned.
Add dressing ingredients to a large salad bowl and whisk to combine. Add salad ingredients and toss well to combine. Season with salt and pepper to taste.
---
Kale, Lentil and Nectarine Salad
3 c. lacinato kale, sliced into chiffonade
2 c. cooked lentils
1/4 red onion, chopped fine
1/2 cucumber, seeded, quartered lengthwise and thinly sliced crosswise
1 red bell pepper, roasted and thinly sliced into 1" long pieces
2 nectarines, chopped into 1/2" pieces
Juice of 1 lemon
1/4 c. olive oil
Salt to taste
Combine ingredients in large salad bowl. Toss. Adjust seasonings.
Posted on July 24, 2020