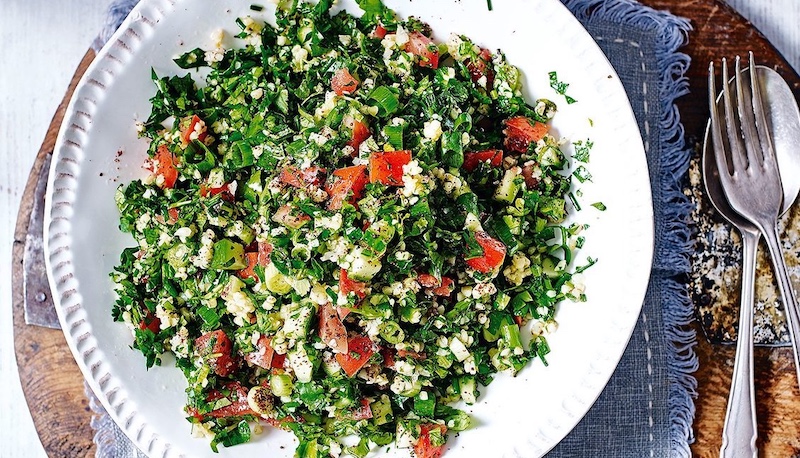 This tabouli recipe, from this week's Beaverton Farmers Market newsletter, is intriguing because it calls for literally bunches of several herbs—always irresistable in my book—and also because the grain is not presoaked or cooked but simply absorbs the liquid from fresh lemon juice and oil. Try it yourself!
We are at the peak of summer which means our farms and gardens are in high gear providing us with an abundance of all the foods we love to eat. For those of us who planted herbs in the spring, this is the time of year when we need to be looking for ways to use the armfuls of fragrant leaves our plants are producing. One of our favorite ways to showcase our herbal bounty comes from none other than our own Bruce Lindner from Pony Espresso.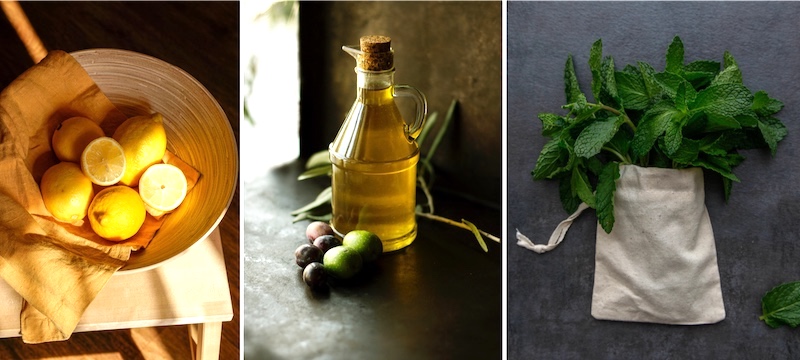 An accomplished cook and cookbook author, Bruce's riff on tabouli salad is exciting because it is packed with flavor from all of the herbs he uses. Give it a try and we promise you will never make a different tabouli recipe again.
Bruce Lindner's Tabouli Recipe
Yet another recipe that I've taken credit for by cobbling together several others. This one is a combination of the classic Lebanese version, an Israeli version and an Iranian version, with a few extra tweaks of my own thrown in—so now I claim it as mine! This is one of those recipes that you have to sort of eyeball the measurements, but in time it's like riding a bike.
3 c. bulgur wheat (dry; do not presoak)
1 large bunch Italian flat-leaf parsley
1 large bunch cilantro (if you don't like cilantro, you can leave it out and add additional parsley)
1 large bunch fresh mint
10-12 scallions
1/2 c. chopped fresh dill
1 small bunch fresh tarragon
2 tsp. cumin seeds, toasted and finely ground
10 lemons
1-2 c. olive oil
2-3 Tbsp. coarse salt
Pepper to taste
1 head Romaine lettuce
Wash and dry all the herbs and the scallions, then chop them finely with a food processor, being careful not to liquify them. Scrape into a large bowl. Take two of the lemons and zest them, then add the zest to the herb mixture. Toast the cumin seeds until fragrant, and allow to cool. Then pulverize in a spice grinder or mortar and pestle and add to the bowl of chopped herbs.
Juice 8 of the lemons and add to the bowl, being careful strain out any seeds.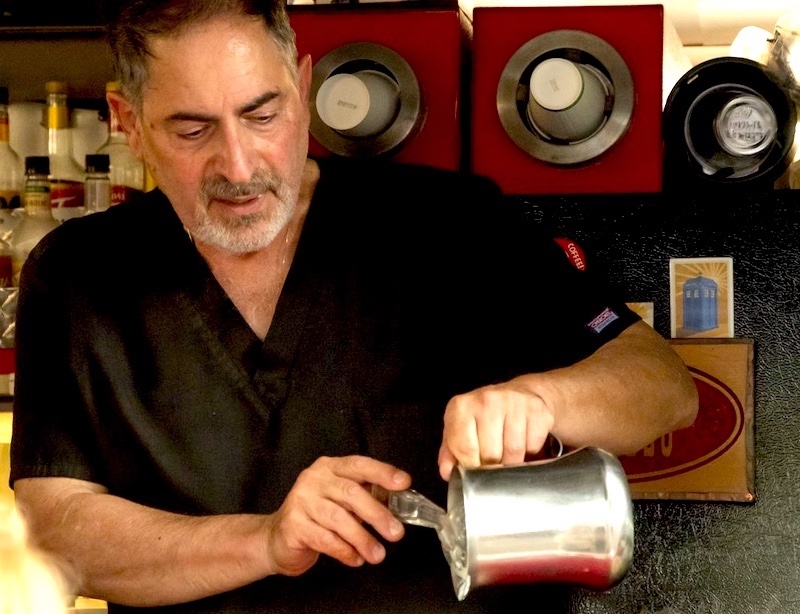 Notice the level in the bowl where the mixture is, then slowly dribble in the olive oil until the volume has almost doubled (this may seem like a lot, but it isn't; the dry grains will absorb most of it). Stir it all in, and then again take note of where the level of the mixture is within the bowl—you're now going to add the dry grains of bulgur to double that.
(NOTE: Virtually every recipe for tabouli I've ever seen requires that you first soak the bulgur in water before using it. Don't do that! This recipe is unique because the lemon juice and olive oil soaks into the dry grains, and isn't displaced by water in previously soaked grains. Besides, when you soak it first, it usually turns pasty after the first day—I like to live off my tabouli leftovers for a few days.)
At this point, stir the mixture together and taste for seasoning. It's going to need a lot of salt, so stir it in now. I use around two or three tablespoons for a batch this size, but you can adjust it to your liking. Add pepper too.
Remember, as the grains absorb the liquids, they also absorb the saltiness. You might need more later. If the tabouli seems too dry, stir in the juice of another lemon or two, and add another splash of olive oil.
Put the tabouli into a covered container and refrigerate for at least two hours while the grains absorb the liquid. Once you're ready to serve, taste again for seasoning, and adjust with more lemon juice and olive oil if necessary.
Spoon a serving into a Romaine lettuce leaf for each guest. For a little added color, sprinkle on a little paprika or sumac.
Warning: This recipe serves a small army!
---
NOTE: [From Kathleen] I made this recently and the flavor was stunning, though with the bulgur from the bulk aisle at the supermarket it was definitely a make-it-the-day-before type of grain salad—the bulgur was much too chewy after two hours and needed an extra few hours to absorb the olive oil and lemon juice. I ended up adding about 3/4 cup of water about an hour before serving for dinner the next day because it seemed like the grain needed some additional softening and the amounts of olive oil and lemon were already sufficient. And it really does make a lot—I'd say around two quarts, so halve it if you're not serving a crowd!
The Beaverton Farmers Market is a generous sponsor of Good Stuff NW. E-mail through the newsletter link (on the upper right of this page) if you'd like to join them in bringing more information about our food system to our community.
Posted on August 11, 2023