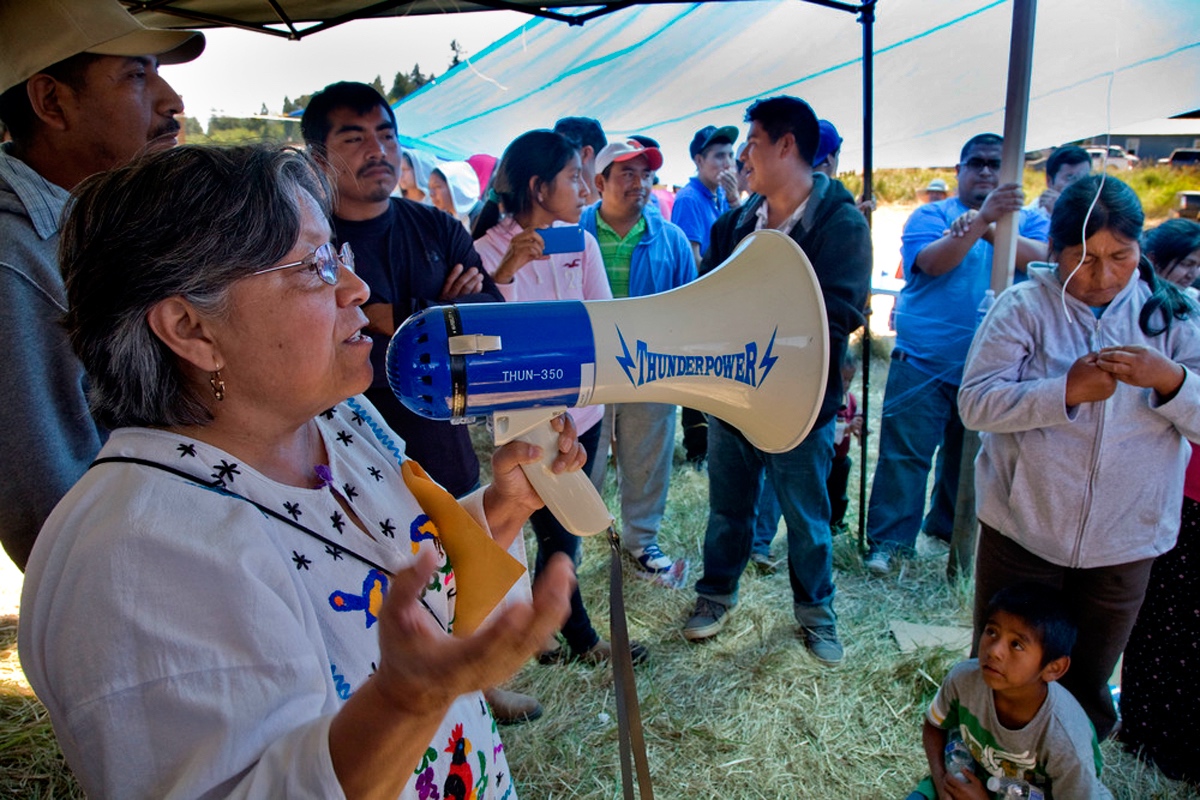 My profile of organizer and farmworker justice activist Rosalinda Guillen of Community to Community Development for Civil Eats.
A ferocious organizer and labor activist for more than 30 years, Guillen founded Community to Community Development in Washington, a group led by women of color fighting for better farm-working conditions.
The phone rang at the grassroots food justice organization in Rosalinda Guillen's office at Community to Community Development (C2C) in Bellingham, Washington, in August 2017. The person on the line said a group of 70 farmworkers was walking down the road leading away from Sarbanand Farms, a large, corporate-owned blueberry farm in the area.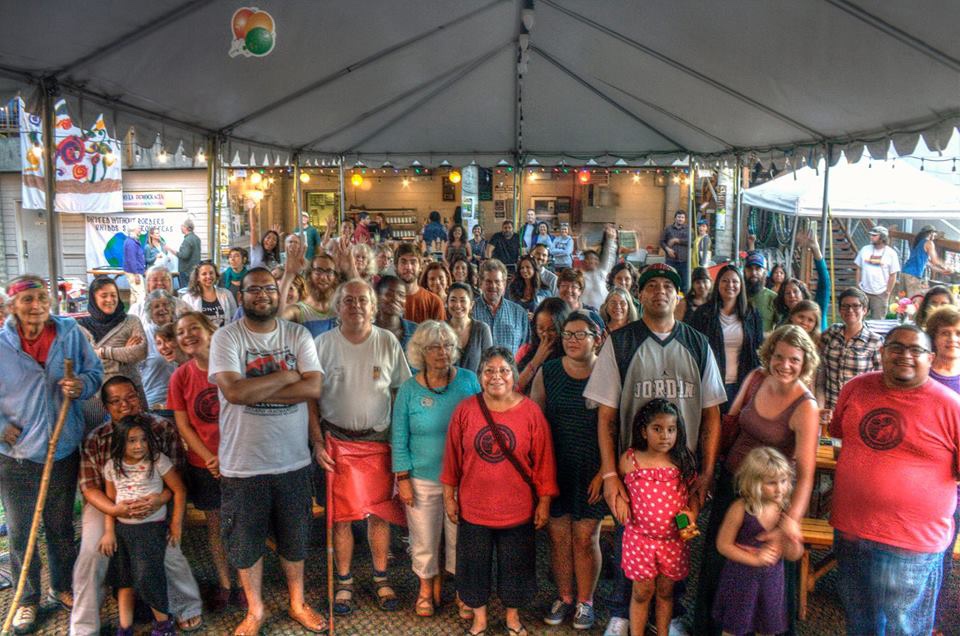 Farmworker justice leader Rosalinda Guillen, the executive director of C2C, soon arrived on site with her staff to find that the men had been fired for complaining about mistreatment after the death of one of their fellow workers, 28-year-old Honesto Silva Ibarra. Silva Ibarra had died of dehydration from being forced to work 12- to 14-hour days in the hot, smoky conditions caused by fires that were sweeping through the region that summer.
Because the men had been fired, they had lost their visa status and would be considered undocumented. C2C immediately set up an encampment for the men and put out the word to the local community.
"We had an amazing outpouring of support," Guillen said. "People brought money, food, tents, chairs, sleeping bags. Doctors and nurses volunteered to check the workers out. They appeared with cars and vans to drive them to the clinic, to the hospitals."
A ferocious organizer and labor activist for more than 30 years, Guillen, now 68, founded C2C as an organization led by women of color, a place-based, grassroots organization committed to strengthen local and global movements toward social, economic, and environmental justice.
In 1995, Guillen won the first-ever farmworkers' collective bargaining agreement in the state of Washington with Chateau Ste. Michelle Winery after helping to organize its workers and after an eight-year boycott of its wines. Previously, she organized strawberry workers for the United Farm Workers (UFW) in California, eventually serving as political and legislative vice president of the union's executive board.
"I've always appreciated that Rosalinda can speak to the nuances and complexities of a just agriculture system, knowing that not everyone sees the same path forward," said Kerstin Lindgren, a strategic organizing researcher at Service Employees International Union (SEIU). "But [she] doesn't lose sight of a vision for justice that is more broadly shared."
In the case of the terminated blueberry pickers, C2C helped educate the community about what had happened by using live feeds on Facebook and protests at state agencies. It held community forums where the farmworkers testified about their experience, medical workers talked about what extreme dehydration looks like, and staff from farmworker justice organizations explained the H-2A program—a visa allowing a foreign national to enter the U.S. for temporary or seasonal agricultural work.
"People saw it—they saw what happened," Guillen said.
The attention enabled C2C and a coalition of other organizations to introduce Senate Bill 5438 in the Washington legislature, which would create a state Office of H-2A Compliance and Farm Labor to provide oversight and monitoring of the H-2A program in the state. The bill passed in May and will take effect at the end of July.
"Community to Community has made my life real," said Modesto Hernandez, a farmworker and member of C2C, who had suffered devastating personal injury, losing his feet to frostbite from unsafe working conditions, as well as experiencing discrimination. "Without their support I would not be able to think positively about my future. Now I know that I have the ability to take care of myself, I don't need charity—I need fairness, and C2C has shown me how to raise my voice and get people and agencies to be fair."
Destiny Comes Knocking
Guillen and her seven siblings grew up living in migrant labor camps following her father, a farmworker from Mexico, on the migrant circuit around the United States. Despite this fact, at the age of 37, Rosalinda Guillen had never heard of Cesar Chavez.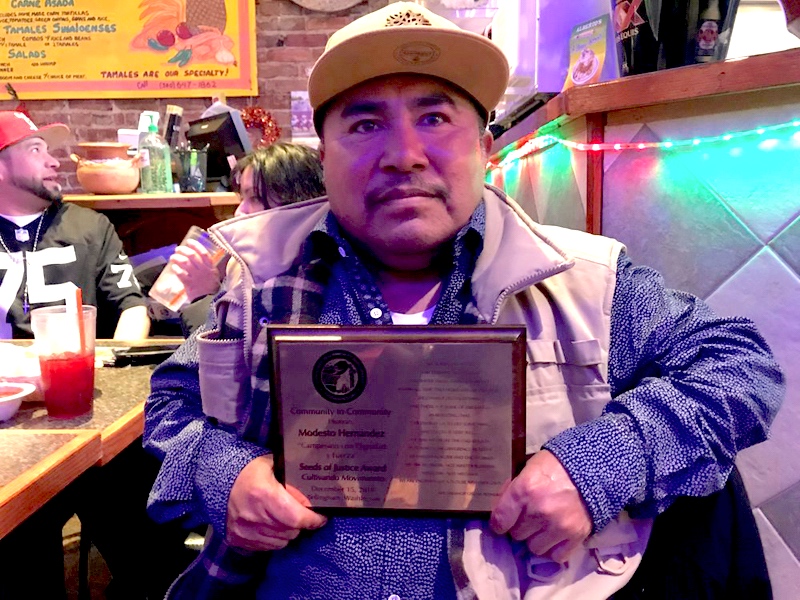 But on the day Anne Atkeson, a recruiter for the Jesse Jackson's 1988 presidential campaign, knocked on Guillen's door in rural Whatcom County, Washington, Guillen was living on a chicken ranch with three sons while working as the manager of data processing at Skagit State Bank. It was the third time that Atkeson had appeared on Guillen's doorstep, desperate to find a person of color to help with local organizing for Jackson's campaign.
"I honestly was not even registered to vote at the time," Guillen said. But something about Atkeson's persistence made Guillen invite her in. "I figured I'd let her talk 15 minutes, then she can leave and leave me alone."
"But the minute [Atkeson] said, 'What do you think about the United States having a Black president in the White House?' those words were like a whip or something," she recalled. "I looked at her and I said, 'What are you talking about?'"
The idea of a Black president resonated with Guillen, she said, because for her and many others, being a farmworker in virtually all-white rural Washington meant being treated as a second-class citizen as well as experiencing outright racism, unequal treatment, and disrespect.
She registered to vote and started going to campaign meetings, eventually running for—and winning—election as a precinct committee officer where she brought in the rural Democratic Party Caucus for Jesse Jackson.
"I loved it," Guillen said of her work registering voters and distributing literature. "It was so invigorating talking about democracy and the Constitution and racism and Jesse Jackson and opportunities for people of color. I didn't know this world existed. I was infused with a whole new identity. That's where I learned about Cesar Chavez and the farm worker movement."
Read the rest of the story about Guillen's groundbreaking union organizing and activism for farmworker justice.
Posted on July 7, 2019