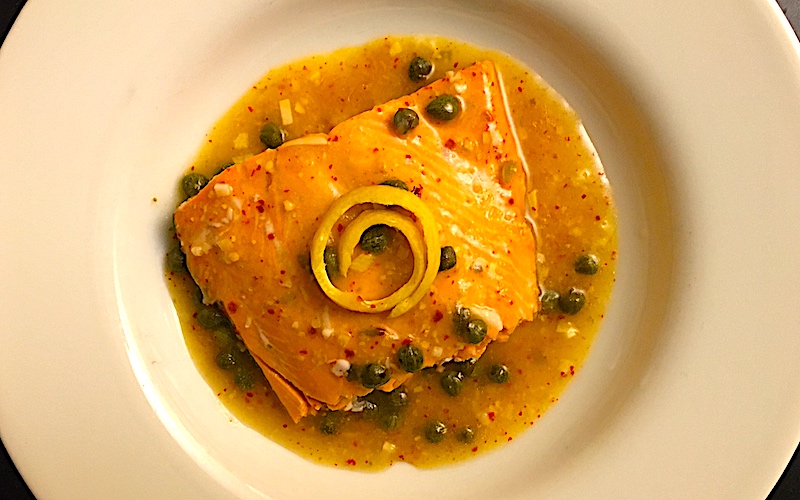 As a young married person starting a family, I didn't often cook fish for dinner because I didn't grow up eating or cooking with it—good fresh fish was hard to come by in our small Central Oregon town. Even after my parents moved the family to Portland there wasn't much available in the strip mall supermarkets around our suburban housing development, the streets strangely named after Native American tribes. (Pawnee Path? Shawnee Trail? Sioux Court? Seriously?)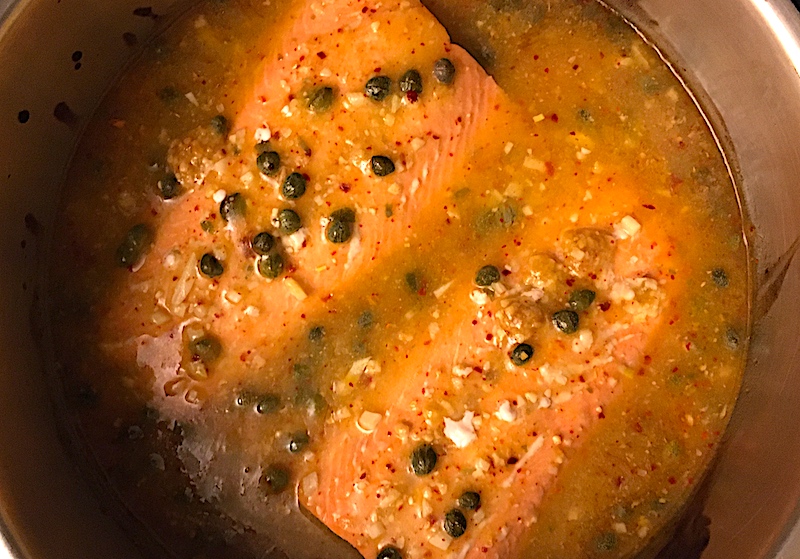 My mother was much more comfortable cooking red meat, what with her upbringing in an Eastern Oregon cattle ranching family. When we did have fish, it was most often from a can—tuna or the dreaded canned salmon, which was unceremoniously dumped in a dish, the indentations of the rings from the can still visible on its surface. Any whole fish tended to be less than absolutely fresh, requiring lots of what was called "doctoring" to cut the fishiness.
Needless to say, there was a lot I had to learn about cooking it.
Fortunately, we now have a myriad of choices for fresh-caught fish available at farmers' markets or one of many retail outlets featuring species caught off our own coast or harvested from regional waters. Recently I bought a portion of a friend's share of sockeye salmon from her Iliamna Fish Company CSF (Community Supported Fishery) subscription, several vacuum-sealed frozen fillets ready to thaw and throw on the grill or in a pan. (Check out this guide to Pacific Northwest CSA and CSF offerings.)
Since the weather was too inclement even for Dave, who's been known to stand over his grill with a beer in hand in an ice storm, I decided to try roasting it in the oven with a lemon piccata sauce that our friend Dana had made for a dinner. She'd come across a chicken piccata recipe that sounded great, but she had rockfish fillets on hand. Ignoring tradition like any creative cook, she decided to try a completely new dish on guests, subbing in the fish for the chicken. Excellent!
It seemed like salmon might be a good match, as well, so I followed her lead. Start to finish, it's ready in about half an hour…and I think you'll agree it's a winner. And it pairs nicely with my recently posted recipe for Turmeric Rice with Dried Tangerine Peels!
Salmon Piccata with Lemon Miso Sauce
2 Tbsp. olive oil
1 Tbsp. butter or margarine
1 Tbsp. garlic, chopped fine
1/2 c. fish or chicken stock
1/2 c. fresh lemon juice
2 Tbsp. capers
1 Tbsp. cornstarch
1 tsp. red pepper flakes
1 Tbsp. white miso (optional)
1 Tbsp. parsley, chopped fine, for garnish (optional)
1 1/2 lbs. salmon fillets
Preheat oven to 350°.
In a medium saucepan, heat oil and butter over medium heat. Add garlic and very briefly sauté until it's just warmed. Add lemon juice and stock and heat until it barely comes to a boil. Reduce heat to low, add capers and miso and stir to combine. Add a small amount of water to the cornstarch to make a thin paste. Add cornstarch to sauce while stirring, and allow to thicken slightly.
Place fish fillets in a 9" by 12" baking dish. Pour sauce over the top and roast in oven for 20-25 minutes until fish is cooked through.
Posted on January 12, 2022