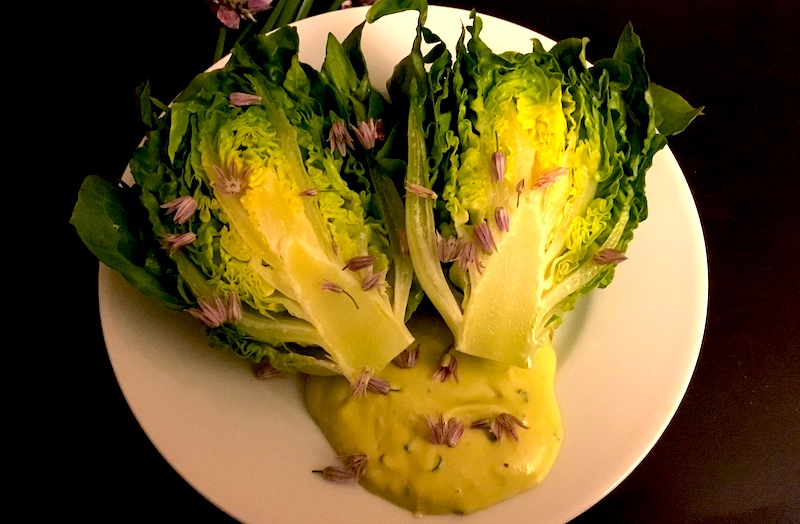 As often happens around here, this recipe started with leftovers: half an avocado from lunch and a few filets of anchovies floating in their jar in the fridge, a lemon that had been zested to death sitting in the bin, a few heads of Little Gem lettuces from Groundwork Organics I'd bought at the farmers' market last weekend. Plus scads of blooming chives waving at me from the herb bed.
Dave was jonesing to light the grill, and had bought some gorgeous Carman Ranch pasture-raised top sirloin steaks to throw on for dinner. So, since nothing pairs with medium-rare beef better than a hefty Caesar salad, I decided to try my luck with a from-scratch Caesar dressing using that avocado. Mayonnaise-y emulsified dressings are always a little fraught for me even with a recipe, since I've had a few that never "emulsed" (is that a word?) and remained a watery mess in the processor.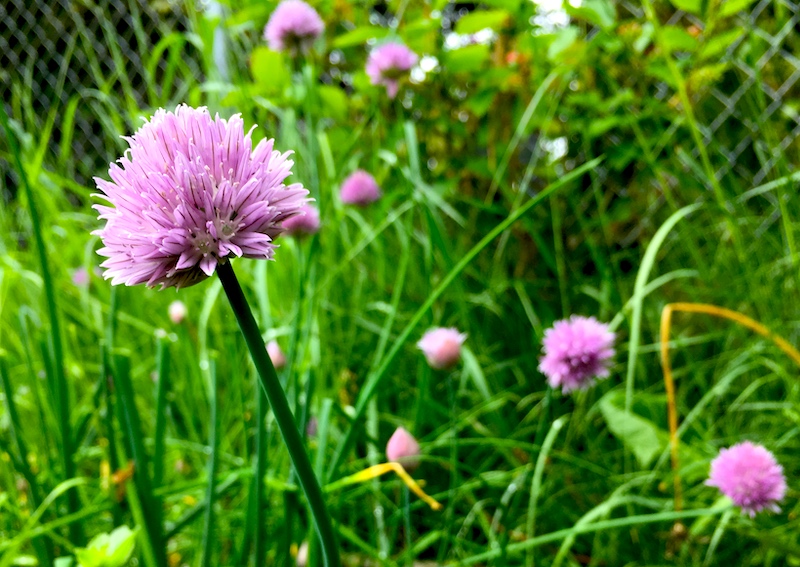 My favorite easy Caesar dressing is one from the classic Silver Palate Cookbook, so I adapted its basic proportions and crossed my fingers as I drizzled the olive oil into the processor's feed tube. And voila, the magic worked! Drizzled over those Little Gems and garnished with scattered chive blossoms, it looked—and tasted—fabulous. Next time I may not wait until I have the leftovers gathered to make it!
Avocado Caesar Dressing
1/2 avocado
1 egg yolk
1 lg. clove garlic
1/2 tsp salt
6 anchovy filets
1/4 c. lemon juice
1 c. olive oil
2 Tbsp. chopped chives
Freshly ground pepper, to taste
Chive blossoms (optional)
Place avocado, egg yolk, garlic, salt, anchovy filets and lemon juice in bowl of food processor and process briefly to combine. While processor is on, drizzle olive oil in a thin stream through the feed tube until it emulsifies. Pour out into medium mixing bowl and stir in chopped chives and freshly ground pepper. Toss dressing with salad greens and garnish with chive blossoms.
Posted on May 23, 2019