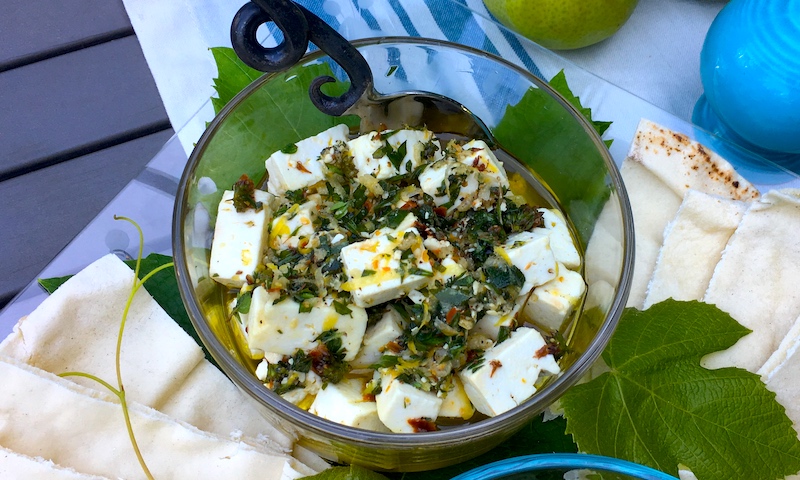 I needed an easy appetizer to take to the annual gathering of "lady food writers" the other night—spectacularly talented writers, cookbook authors and cooks all—and was not feeling inspired. That is, until I saw that one of my favorite cheesemakers, Fraga Farmstead Creamery, had posted on social media that they would have fresh feta at their farmers' market booths over the weekend.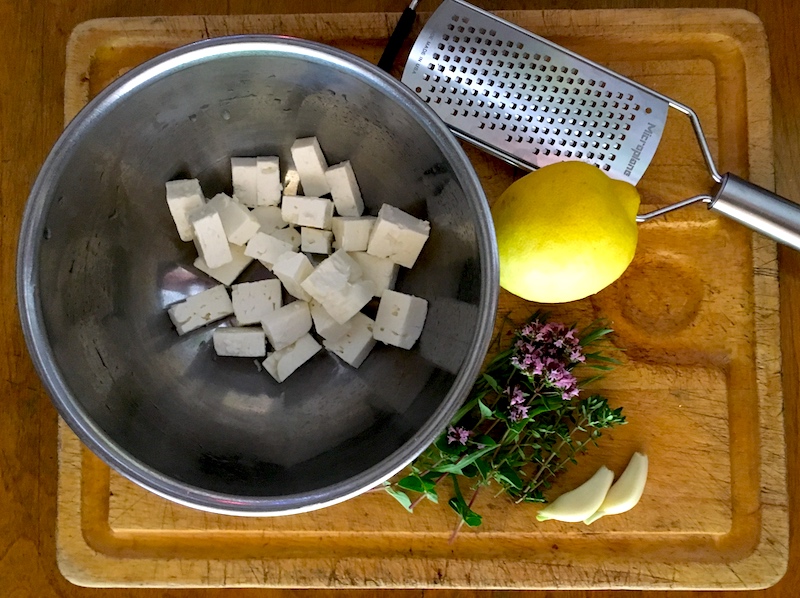 As luck would have it, one of those farmers' markets happened to be in our neighborhood, and I knew this crowd would be the perfect audience for Fraga's stellar cheese. So I got myself dressed and out of the house Saturday morning, shimmied over to the market, bought a jar of snow-white feta cubes swirling in whey brine, and rewarded myself for the effort with a breakfast bowl of Umi Organic noodles. (I think I deserved it, don't you?)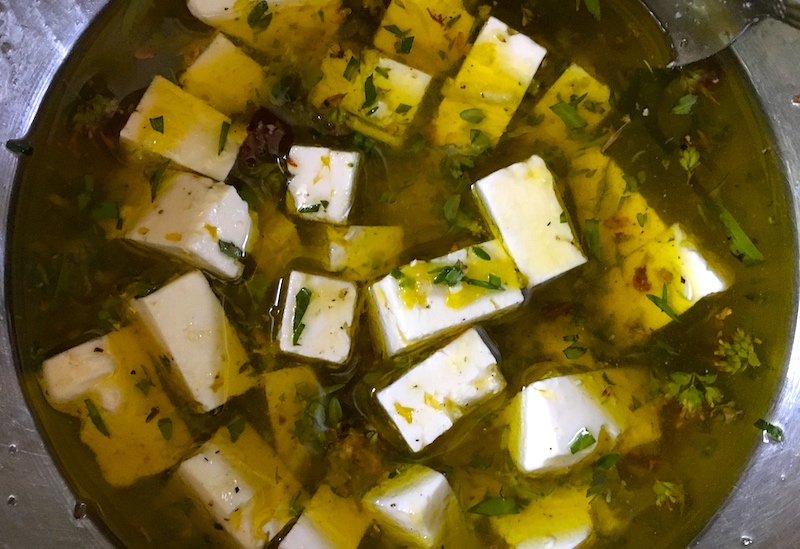 The day of the gathering I simply drained the whey, reserving the brine for later use, and transferred the cubes of cheese to a bowl where I added chopped herbs from the garden, olive oil, chile flakes and garlic. I left it on the counter for a couple of hours, swished it around a few times, placed it on a platter lined with grape leaves foraged from my neighbor's vines, added triangles of pita, and took it to the party. Raves ensued.
I can't wait to crumble more of this amazing feta into a shrimp salad this summer, or tuck it into a hamburger patty for stuffed cheeseburgers. Yes, it's that good!
Feta Marinated with Herbs, Garlic and Lemon
8 oz. brick feta cheese
Olive oil
Fresh herbs (oregano, thyme, tarragon)
Zest of half lemon
1 medium clove garlic, minced
1/4 tsp. red chile flakes
Cut feta into 1/2" cubes. Place in medium-sized mixing bowl along with herbs, zest, garlic and chile flakes. Add enough oil to barely cover and mix gently. Place in refrigerator for at least two hours, stirring occasionally. Serve with pita wedges.
Posted on August 1, 2019