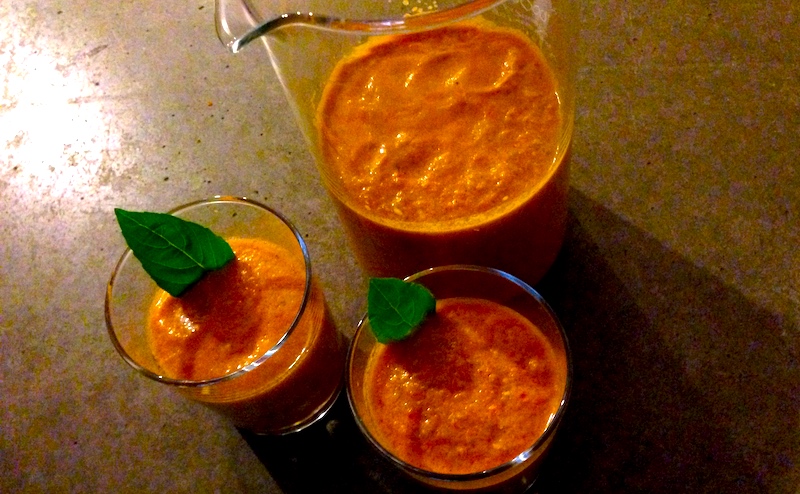 Looking at the weather forecast for the next few days, and knowing that the dog days of summer (i.e. August in the Pacific Northwest) are just around the corner, I thought I'd get my proverbial ducks in a row ahead of time.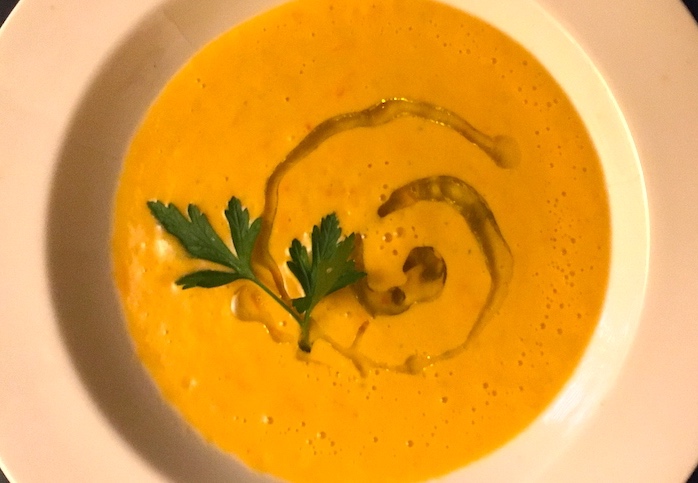 Like most of you, the last thing I want to do when the temperature hits 90 degrees or more is to turn on the stove, so I looked up the plethora of chilled soup recipes collected in the archives here at Good Stuff NW and found a few that are going to come in handy sooner than later.
Luckily for us Northwesterners, the summer harvest is coming on strong after our extraordinarily cold, wet spring—that sound carried on the wind is local farmers heaving a big ol' sigh of relief—so the tomatoes, fennel, fruit, peppers and other cooling things you'll need will be in good supply at our local farmers' markets.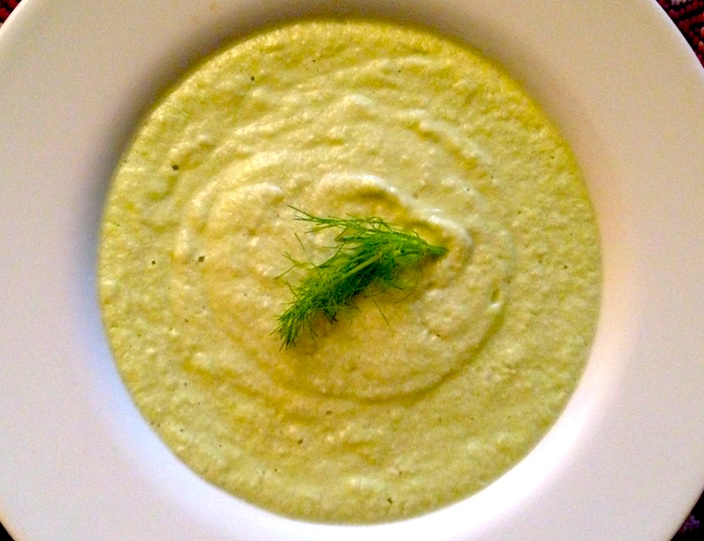 Gazpacho is what most often comes to mind when chilled soups are mentioned (photo at top and above left). A fresh tomato soup made in a blender with other vegetables and a bit of bread to give it body, you can make it ahead of time or right before serving. It's handy to have a jar on hand in the fridge for a quick lunch, appetizer or light dinner with a hearty green salad.
I'm personally in love with Persian cucumbers, the smaller, less seedy version of their big, waxy cousins that we're used to. Many local farms have started growing them for customers who like their size and that they don't have to be peeled and seeded, yet still retain the cucumber's fresh, crunchy flavor and texture. A common featured ingredient in chilled soups, combining them with other seasonal vegetables is a great way to go.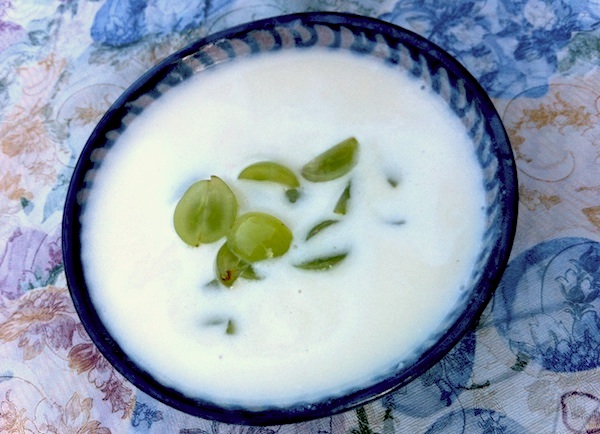 A Spanish chilled garlic soup is cool and light with a requisite zing from the garlic and a soothing sweetness from halved grapes. It's the perfect starter to a summer evening in the back yard. It would also be terrific poured into a lidded pitcher and taken on a picnic (or a concert on the lawn) with a rotisserie chicken from the store along with a fruit salad and a bottle of chilled rosé.
So when it eventually does start to heat up and you feel that cranky demon lurking right around the corner, take inspiration from these three cool customers. With a minimum of chopping and a quick whir in the blender, they'll turn that sweaty frown upside down.
Tomato Gazpacho
Adapted from Julia Moskin's recipe in the New York Times.
Makes a full blender.
5-6 medium tomatoes
1 small Persian cucumber or a small, peeled and seeded regular cuke
1 poblano or Anaheim pepper
1/2 medium onion
2 cloves garlic
1 Tbsp. white or red wine vinegar
1/2 c. extra virgin olive oil
Salt to taste
Cut all the vegetables into rough chunks. In the blender, put in the tomatoes first (they'll liquify quickly and pull in the other stuff) then add cucumber, poblano pepper, onion, and garlic. When that has been puréed, add vinegar and blend until very smooth. With the motor is running, add extra virgin olive oil. Taste and add salt if needed. Chill or serve with ice, and add a little water if it's too thick to drink easily.
---
Chilled Cucumber, Avocado and Fennel Soup
2 medium cucumbers, peeled and seeded, or 3-4 Persian cukes (no peeling or seeding needed.)
1 avocado, peeled and seed removed
1 fennel bulb, quartered and cored
1/4-1/2 onion, roughly chopped
1 clove garlic, roughly chopped
Juice of 1/2 lemon
1 c. water
1/2 c. sour cream
1, 1" slice day-old artisan bread, crusts removed and cut in 1/2" cubes
Salt to taste
Place half of the cucumbers, avocado, fennel bulb, onion, garlic, lemon, water and sour cream in a blender. Blend until mixture is thoroughly puréed. Add half of bread cubes and continue to blend until it is a smooth mixture. Add salt to taste. Pour into large mixing bowl. (At this point you can taste and adjust amount of onion, etc., for the other half of the soup.) Repeat with second half of ingredients. Stir to combine. Can be refrigerated (or not) before serving.
---
Sopa de Ajo Blanco
My friend Judy Holloway learned to make this soup when she and her family lived for a time in Spain.
1/2 c. blanched almonds
3-4 slices of large-sized baguette, more if using smaller loaf
3 cloves garlic
1 tsp. salt
4 c. water
5 Tbsp. olive oil
3-4 Tbsp. sherry vinegar
16-20 seedless green grapes
Put slices of bread in water to soak. Peel garlic. While bread soaks, put garlic and almonds in processor or blender and pulse until smooth. Squeeze water from bread, tear into pieces and add bread and salt to blender. While blending slowly, add oil, vinegar and finally water to blender. Taste, adjusting salt, vinegar and oil to taste. Chill at least 2-3 hours or overnight. Serve grapes on side, or put several in soup bowl and pour soup over grapes. Serves 4.
Posted on July 8, 2022