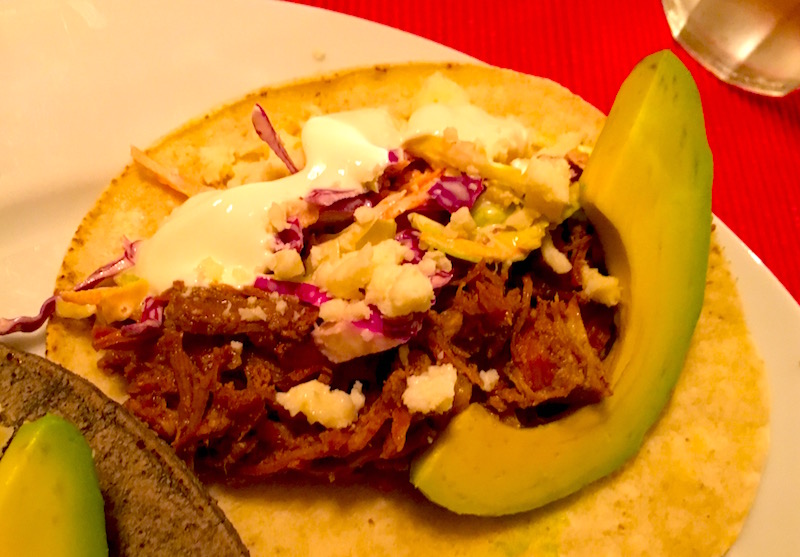 I'd been jonesing for tacos for days, and just hadn't got around to making them. Then, fortuitously, some friends said they were going to be in the 'hood one evening, which gave me the perfect excuse to try a new method for making carnitas. (And yes, I'm one of those people who tries out new recipes on guests, much to the chagrin of my mother who considered it much too risky.)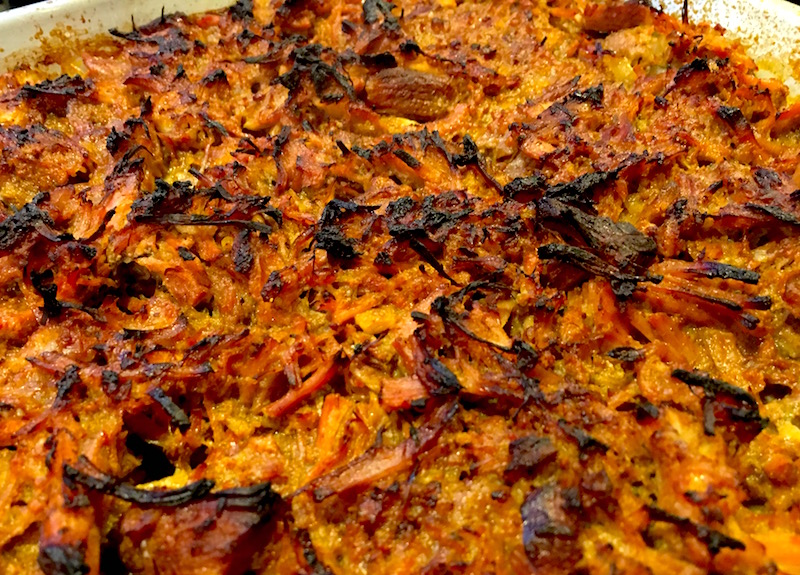 I'd already pulled a four-pound pork shoulder out of the freezer, it being a weekend and the perfect time for a nice slow braise on the stove. So I picked up some cotija cheese made by Albany's Ochoa's Queseria, cabbage for slaw, plus an avocado, salsa and tortillas. (I'm a huge fan of the organic tortillas from Three Sisters Nixtamal. It's a local company that makes masa using a traditional process called nixtamalization, where dried corn kernels are soaked in slaked lime, then ground and made into dough.)
Carnitas, which means "little meats," is made by simmering chunks of pork with citrus and spices for several hours until it's tender and on the verge of falling apart. I had some whey left over from making ricotta, so I decided to use it for the braising liquid, since the acids in the whey would help to break down and tenderize the meat. The method I used then calls for shredding the meat, roasting it in the oven (or in a cast iron pan on the grill) until any remaining liquid evaporates and the meat is crispy.
Warming the tortillas on a griddle is quick and easy, though I'm always tempted to pile them with heaps of fixin's, but exercising a teensy bit of restraint is worth the reward of the perfect bite, instead of bursting the taco or losing too much on your plate. Plus it means I can enjoy a few more of those longed-for tacos!
Carnitas
4 lbs. boneless pork shoulder
1 qt. whey, water or stock
1 onion, sliced in half lengthwise, then crosswise into 1/8" slices
8 cloves garlic
2 tsp. oregano
4 bay leaves
2 tsp. ground cumin
1 orange, quartered
1 Tbsp. kosher salt
Put all ingredients into large Dutch oven and bring to a boil. Reduce heat to simmer for 2-3 hours until meat is starting to fall apart and liquid is almost gone. If there is quite a bit of liquid left, remove the meat to a roasting pan, disposing of the orange peel and bay leaves. Bring the liquid in the pot to a boil and reduce until there is less than 1 cup remaining.
While liquid reduces, heat oven to 450°. When liquid has reduced, pour over meat in roasting pan and place in oven for 20-30 minutes or until it starts to brown. Shred any remaining large pieces.
Posted on January 20, 2018