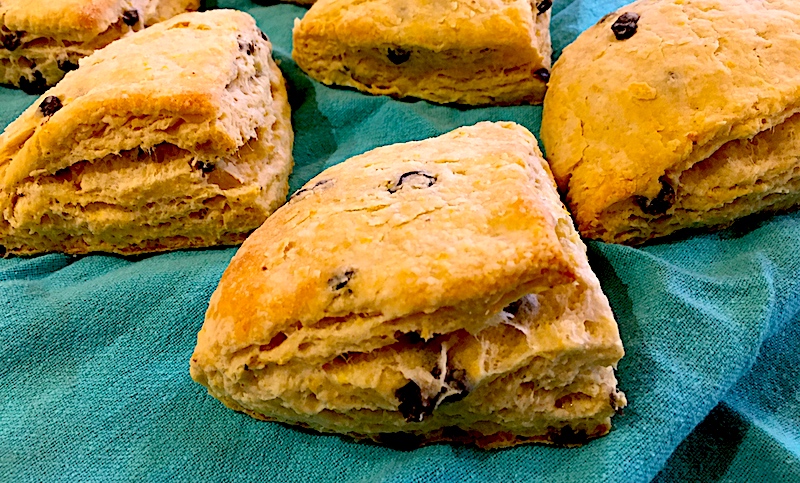 First, I want to thank everyone who has contacted me to ask how Dave is doing after his accident. He's healing and making progress with help from his physical and occupational therapists from Providence Home Health, a benefit we never imagined we'd need but one we're incredibly grateful to have. Second, an apology for not posting much since then—caregiving, as many of you already know, is pretty much a full-time gig or, as our friend Chad said, "you just take it one hour at a time."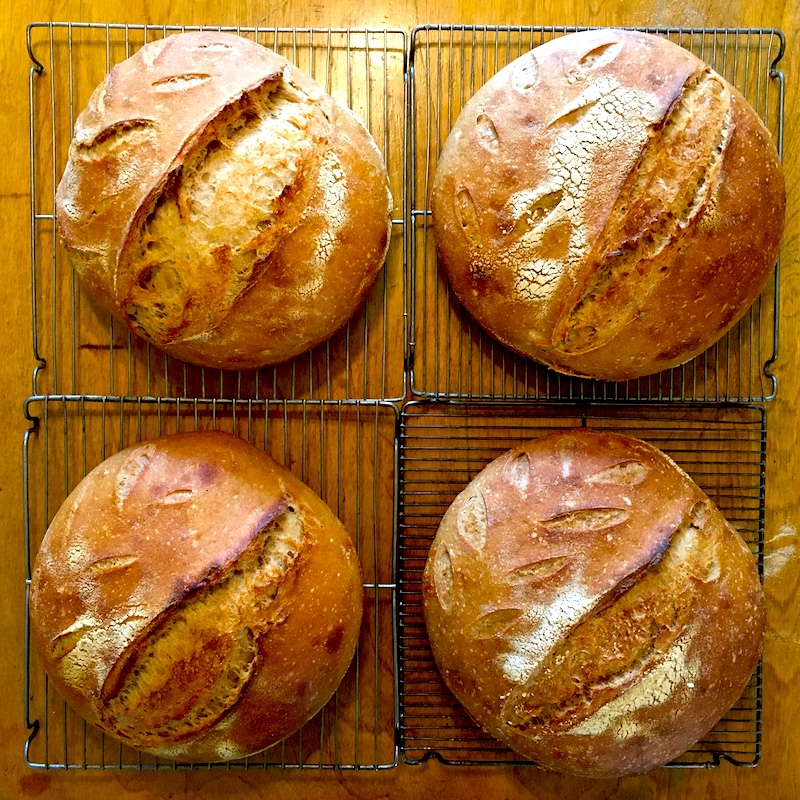 Thankfully, by now we're at the point where we're taking it a day at a time, and each day shows small improvements over the one before. He's been able to go back to making his stunningly delicious sourdough bread even though he's still confined to a wheelchair—we've dubbed it "Wheelchair Sourdough"—and this morning I encouraged him to take a stab at his orange currant scones.
Yes, it is admittedly a self-serving suggestion, but I prefer to think of it as fitting into his occupational therapy regime. (His OT therapist, Debbie, I'm sure would agree, since she was very excited to learn he loves to bake.)
If you'd like to take a stab at making them, from a sitting position or not, I can guarantee you're going to feel so much better!
Dave's Orange Currant Scones
3 c. (390g) all-purpose flour
1 Tbsp. sugar
1 Tbsp. baking powder
3/4 tsp. sea salt
Zest of 1 orange
1/2 c. (1 stick) frozen unsalted butter, cubed
1 large egg
1/4 c. sour cream
3/4 c. whole milk
1/4 to 1/3 c. currants
Preheat oven to 350°. Line a sheet pan with parchment paper or a baking mat.
In a large mixing bowl, toss dry ingredients and zest together with a fork. Transfer mixture to a food processor and add the cubed pieces of butter. Pulse several times until the texture is slightly coarser than cornmeal. Put the mixture back in the mixing bowl and add currants, tossing with the fork to combine.
In a small mixing bowl, combine the egg, sour cream and milk and mix thoroughly. Make a well in the center of the flour and pour in egg mixture. Mix ingredients together with a spatula until a loose dough forms, then press dough into a large ball. Turn out onto floured surface, cut the ball in half and knead each half four or five times with your hands.
Pat each half into a 6-inch circle. Using a knife or metal-bladed bench scraper, cut each disk into quarters. Place them spaced apart on the baking sheet. Bake until light golden brown, about 22 minutes; rotate the pan front to back halfway through.
Leftover scones—it happens, but rarely—can be placed in a zip-lock bag and refrigerated or frozen for later.
Posted on October 25, 2021