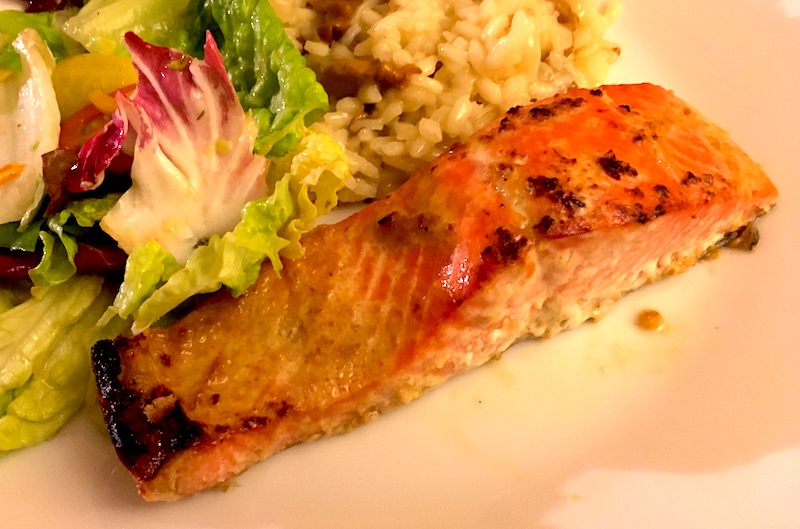 It's a birthday. It's an anniversary. It's a special occasion and right now, because of a nationwide pandemic, all the restaurants in town are closed. There is the option of supporting a local restaurant and ordering takeout, but the idea of going out and having to do even more Lady Macbeth-level handwashing before, during and after is dread on a whole new level.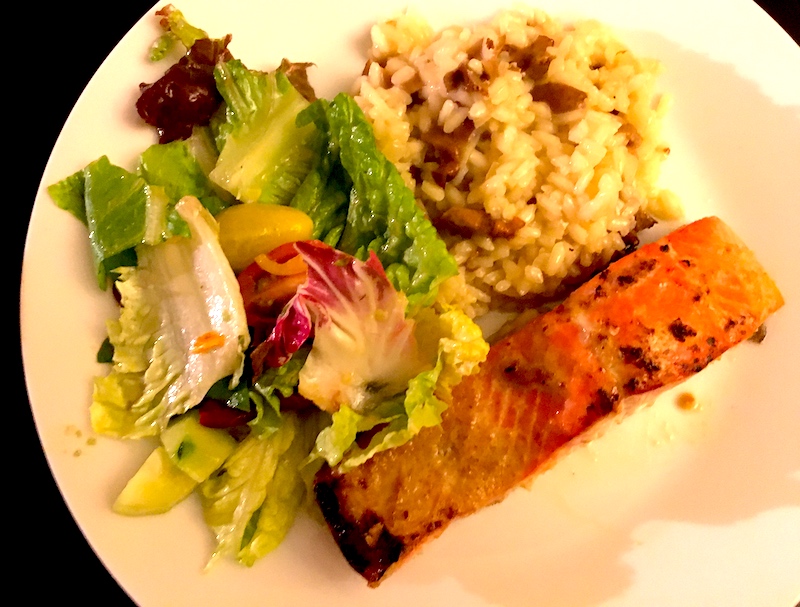 So now's the time to go to the freezer and haul out one of those sides of salmon you packaged up when the stores were offering to butcher whole fish at a fraction of the price per pound they normally charge. (If you didn't do this, put it on your list for next season.) Simply thaw it, slice it into pieces, mix up the marinade below and put in the fridge for an hour or more, then broil it briefly—you'll have a fancy restaurant-level dinner that'll make anyone feel celebrated, pandemic or not.
I'd suggest a bright, lemon-inflected risotto and a creamy miso-dressed salad with, maybe, a deceptively simple apple galette for dessert, but I'll leave those decisions up to you. The point being, of course, to feed people well and make them feel loved, as it is any time, but especially now.
Roasted Miso-glazed Salmon
1 whole salmon filet
1/4 c. white miso (I'm in love with Jorinji miso)
1/4 c. canola oil
1 Tbsp. sesame oil
1 Tbsp. regular honey
1 Tbsp. rice vinegar
1 Tbsp. soy sauce
1 Tbsp. grated ginger
Preheat oven to 425°.
Place all ingredients in medium-sized mixing bowl, whisking as you add each one.
If you are starting with a whole filet of salmon, slice it crosswise into 2-inch pieces. (The marinade would also be great with a salmon roast, larger filets or steaks, though cooking times listed below may be different.) Place the pieces into a gallon zip-lock bag and add the marinade. Gently massage the bag to distribute the marinade evenly and place the bag in a bowl in the refrigerator for at least one hour (I allowed 3 hours for mine).
Place parchment paper in the bottom of a large sheet pan or roasting pan. Remove the salmon filets from the bag and place them skin-side down on the parchment, leaving some space between them. Put the pan on the middle rack of the oven and roast for 3-4 minutes per inch of thickness of the filets (3 minutes will be more rare, 4 minutes will be more well done). When the filets are cooked, remove the pan from the oven and set aside. Set the oven on broil and allow a couple of minutes for the broiler to heat. Place the pan of filets back in the oven. When the filets are slightly caramelized, remove from the oven and serve.
Thanks to Michele Lee Bernstein for the Lady Macbeth turn of phrase above. So apt, as my poor, cracked hands can attest!
Posted on March 27, 2020