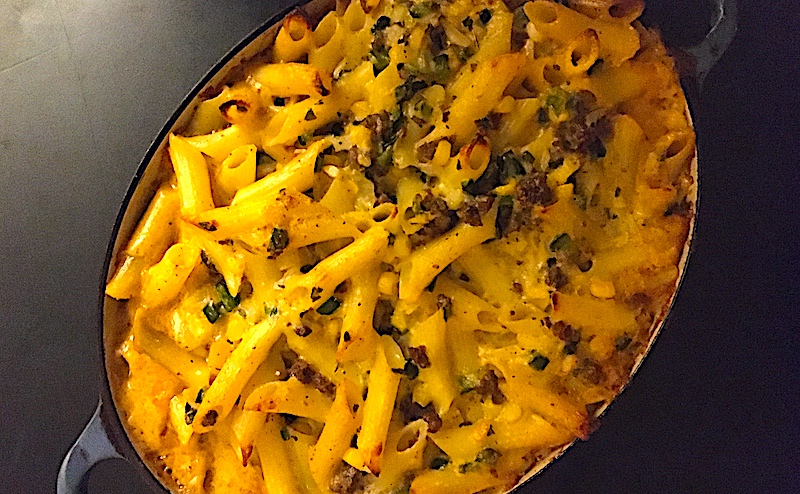 In my ongoing quest to a) keep our teeth from chattering in our 66-degree house, b) get something for dinner on the table at a reasonable hour and c) use up whatever leftover bits and bobs are left in the fridge before they spoil, I'll often resort to a casserole or stir-fry that will be quick to prepare and (hopefully) delicious.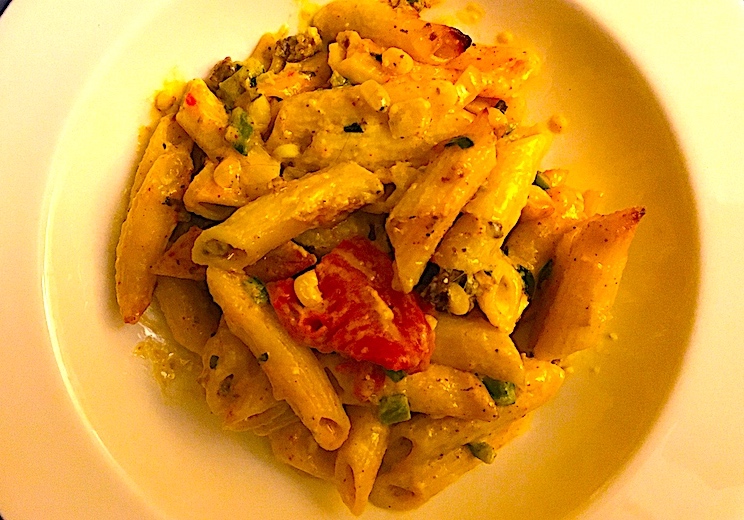 And when you're in the middle of a pandemic and can't pop out to the store to pick up some ingredients on the fly to make a special dish, it's especially necessary to be creative with what you've got on hand. Which is where casseroles or stir-fries come in handy, since they cover all the food groups—starch, veg, protein—and are warm, belly-filling and can be zhooshed with spices, herbs and condiments to tickle any palate.
Which brings us back to me standing in front of the fridge with the door open (forgive me, Mom) and rummaging through shelves and bins. A hunk of cheese, half an onion, some poblano peppers that didn't get used for tacos the other night, a half pound of hamburger that was getting to the use-it-or-lose-it stage, plus a half package of cream cheese, some frozen corn, and leftover roasted tomatoes from a soup—another favorite absorber of leftover ingredients.
From scanning the heap on the counter, I could have made my mom's "goulash," basically a hamburger noodle casserole with corn and tomatoes for the base and chile powder for some zing. It would have taken care of most of the pile, but I was in the mood to try a variation on an old fave—which, to be honest, has more than once gotten me in trouble, as in "well, this is interesting but please never make it again" comments from my family.
But, glass of wine in hand, I forged ahead nonetheless and commenced chopping and frying and stirring and finally put it all in the oven. Promising aromas began wafting out, heads (including that of the dog) popped out from around corners with quizzical expressions, and finally the pot was placed front and center on the table, all crispy and golden and smelling amazing.
Moments later, it seemed, it was all gone, down to the last kernel of corn.
Tex Mex Mac'n'Cheese
For the meat mixture:
2 Tbsp. vegetable oil
1/2 lb. hamburger, or Tolucan chorizo
1/2 yellow onion, diced
1 large or 2 medium poblano peppers, diced
3 cloves garlic, minced
1 c. frozen or fresh corn kernels
1 tsp. oregano
For the sauce:
4 Tbsp. butter
4 Tbsp. flour
2 c. milk
4 c. sharp cheddar cheese, grated*
4 oz. cream cheese
1/2 tsp. hot pepper sauce
1 tsp. salt plus more to taste
For the casserole:
1 lb. dried pasta
1 c. whole roasted tomatoes, drained and roughly chopped
1/2-1 tsp. chile powder
Salt and pepper to taste
Preheat oven to 350°.
Bring large pot of salted water to a boil.
Place large frying pan over medium-high heat. When the oil shimmers, add the hamburger and brown, breaking it up into small bits. When it is completely browned, add onions and sauté until tender. Add chopped peppers, corn and garlic and sauté until tender. Stir in oregano and keep warm over low heat.
Add pasta to boiling water and cook until al dente.
While pasta cooks, melt butter in medium-sized saucepan. Remove pan from burner and add flour, stirring until the mixture is smooth with no lumps. Place saucepan back on burner and cook on medium heat for 1 minute, stirring constantly. Add milk gradually, stirring/whisking until thickened, then add cheese in handfuls, stirring until melted. Add cream cheese and stir until sauce is thick and creamy, then add hot sauce with salt and pepper to taste. (The sauce should be slightly saltier than you'd normally make it, since when combined with the pasta it will tend to make it taste less salty.)
When pasta is done, drain and put back in pasta pot, add cheese sauce and stir gently to combine. Add meat mixture, drained tomatoes and chile powder and stir. Transfer to baking dish. Bake 30 minutes.
* I like a couple of sharp cheddars made locally, and recommend Face Rock Aged Cheddar and TMK Creamery Cheddar. Also Organic Valley Raw Sharp Cheddar and Organic Valley Grassmilk Cheddar are excellent.
Posted on December 1, 2020