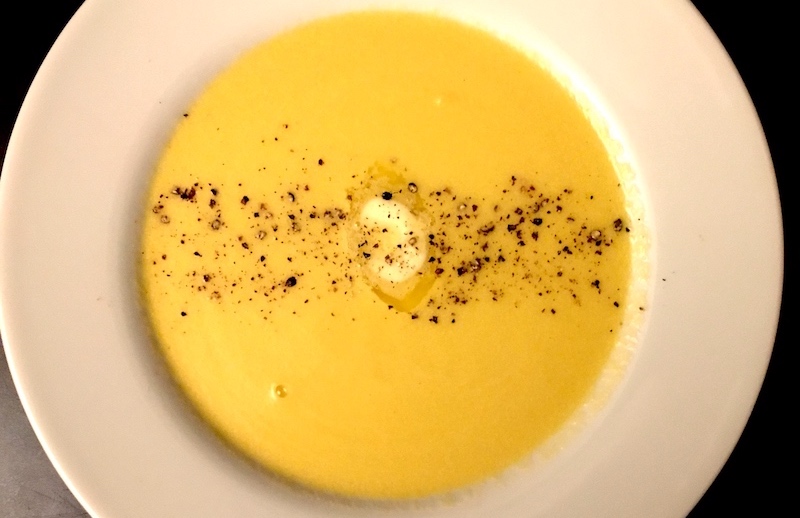 For many people, their strongest memories center around firsts: the first time they rode a bike, their first car, their first kiss.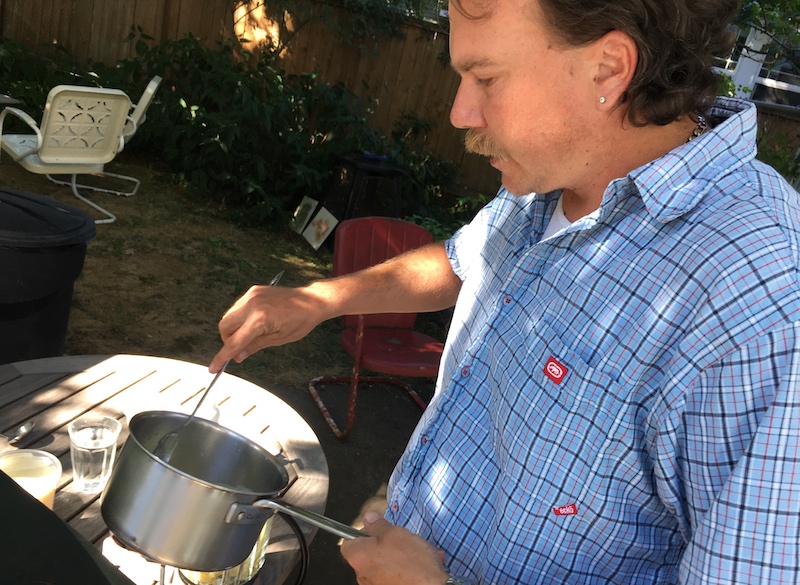 For me, many of those memorable firsts center around—no surprise here—food. The first time I had spit-roasted whole pig cooked over a fire by my uncles at a tiny cabin in the Blue Mountains; my first taste of kimchi at a snowy mountainside inn on a student trip to Korea; my first pesto pasta in the early days of Papa Haydn's eastside location that was so packed with garlic I could still taste it three days later—which I adored, by the way!
I remember being floored by the broth served with rockfish made by chef Serge Selbe at the London Grill that was as clear as water but was intensely infused with the flavor of fresh tomatoes—he described it as filtered gazpacho. More recently my mind was blown by the corn soup made by Benjamin Schade when he was chef at the late, lamented Old Salt Marketplace in northeast Portland.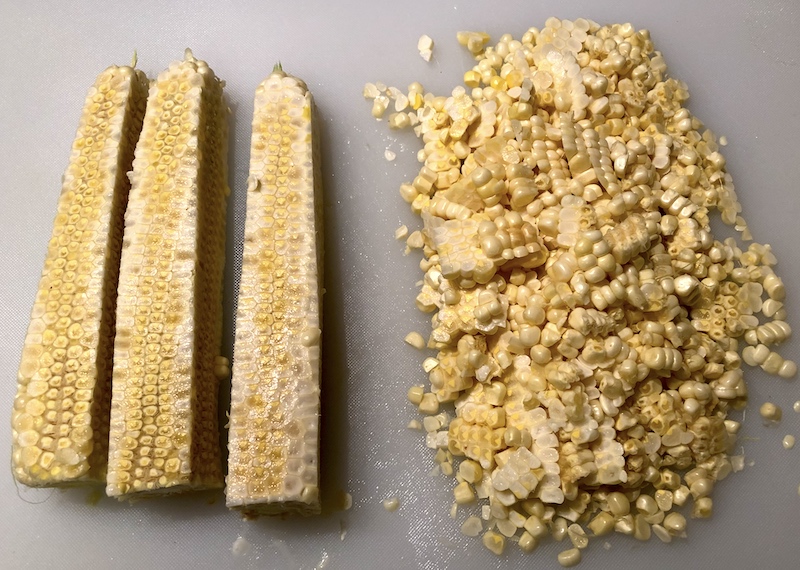 Regular readers know I'm a fool for anything with fresh corn in it, and this bowl was the essence of corn in a smooth, creamy, velvety robe, adorned only with a pat of butter melting seductively over its surface punctuated by a sprinkling of fresh pepper. I'd been so taken with it I pestered the poor guy for a couple of years, and just this summer he graciously agreed to share the recipe.
Recently Schade has been cultivating a working urban oasis he's dubbed Schadey Acres Farm, growing heritage varieties of beans, squash, peppers, turnips and other vegetables in the more-than-a-dozen raised beds he's built around his home. He makes use of this bounty in his capacity as a personal chef, but also produces a line of pickled and preserved goods under his own Private Reserve Preserves brand.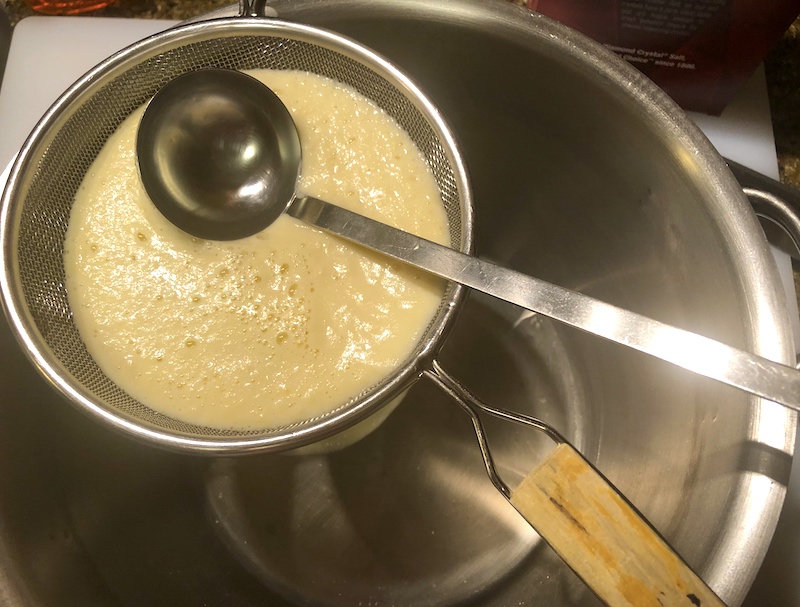 When Schade arrived to show me how the soup was made, I was astounded to find out it had only four ingredients: butter, onions, corn and salt. No cream? What made it so velvety? He said it was all in the method, which he'd learned from Kevin Gibson while working at Castagna.
That answered a lot of my questions about this remarkable soup, since I consider Gibson to be a soup guru. (Anyone remember his remarkable Too Many Tomatoes soup from Castagna? I rest my case.)
With credit given where credit was due, Schade went on to say he basically makes the soup according to Gibson's recipe, which is incredibly simple but more technique-driven than one might guess given the number of ingredients.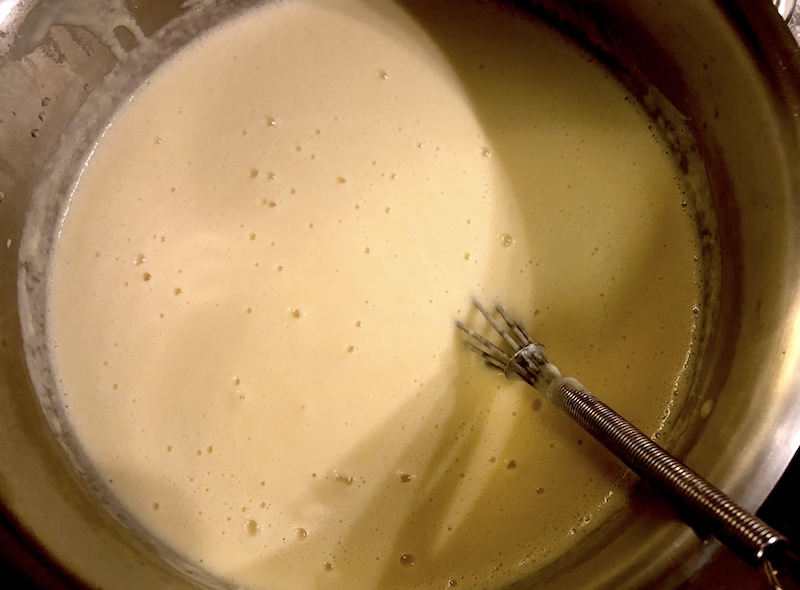 Starting with onions simmered in butter, Schade combined them with the kernels from 10 ears of corn which he then simmered ever-so-briefly in corn stock—Schade said Gibson told him the secret to corn soup was to "not cook the corn." Purée the mixture in a blender, run it through a sieve and it's done.
With corn nearing the end of its season in the Pacific Northwest, I'll be heading to the nearest farmers' market this weekend and buying up as much fresh corn as I can, so you'd best get there before I do!
Benjamin Schade's Corn Soup
Adapted from Kevin Gibson
Makes approx. 2 qts.
10 ears of corn
3 med. yellow onions, diced finely
1/4 c. butter
2 qts. corn stock
Salt
Dash of Crystal hot sauce (or tabasco)
Cut the kernels from the ears of corn. (Schade recommends placing the cob on a cutting board and slicing one side of the kernels from the cob. Rotate the cob so the cut side is against the board and slice the second side. Repeat on the last two sides of the cob. See photo above.) You can also then scrape the cobs with a knife or a handy little tool called a corn slitter to remove any remaining kernels and juice.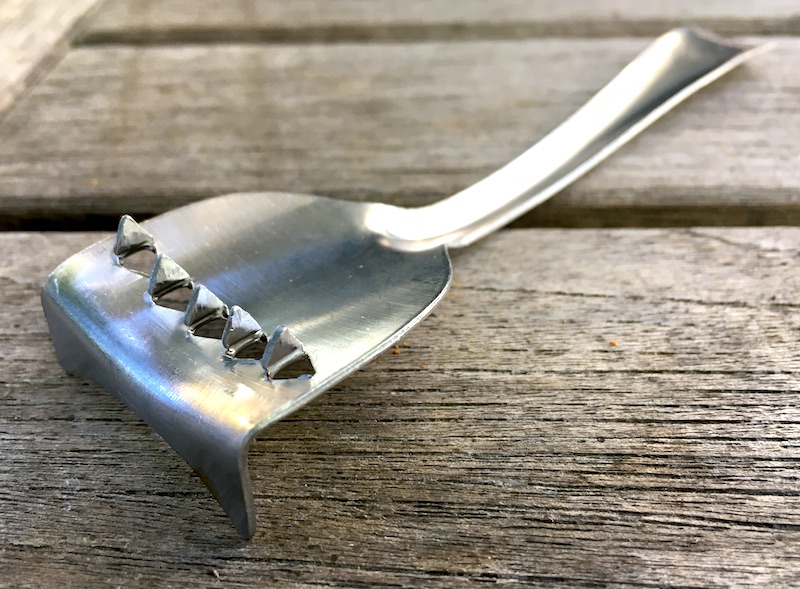 If you need corn stock, place the scraped cobs in a large pot (a Dutch oven or pasta pot) and barely cover with water. Bring to a boil, then reduce heat to simmer for 30 minutes. Strain through a fine mesh sieve.
While simmering the stock, chop the onions. Melt butter in a large pot and add onions. Sauté until translucent, stirring constantly to avoid browning. (Schade says it's critical not to brown the onions.) Add corn kernels and stir to combine then add corn stock and bring to a simmer. Simmer 5 minutes. (Remember Gibson's advice: do not cook the corn!)
Remove from heat and immediately strain the corn mixture through a sieve or colander, reserving the stock for another use. Put the corn in a blender, making sure not to overfill the blender; you can do this in batches—remember that hot liquids can explode out of a blender, so Schade advises holding down a thick towel over the lid of the blender while running it. Purée until completely smooth.
Strain through a fine mesh sieve into a large soup pot. If you're straining several batches, you can add strained bits of corn mixture back to the next batch to purée and strain. Discard the strained remains in the compost. Schade stresses that it's better for the soup to be thick since extra liquid can be added to thin out the soup but extra liquid can't be removed. Start thick and thin to perfect texture.
When all the corn mixture has been strained into the soup pot, add 1 tsp. of hot sauce and salt to taste. (Schade recommends no more than 1 Tbsp. hot sauce for 2 quarts of soup; he said "the hot sauce is not for heat but for the vinegar to brighten the flavor.")
Heat briefly before serving, taste for seasonings and garnish with a pat of butter and grinding of pepper.
Posted on September 19, 2020