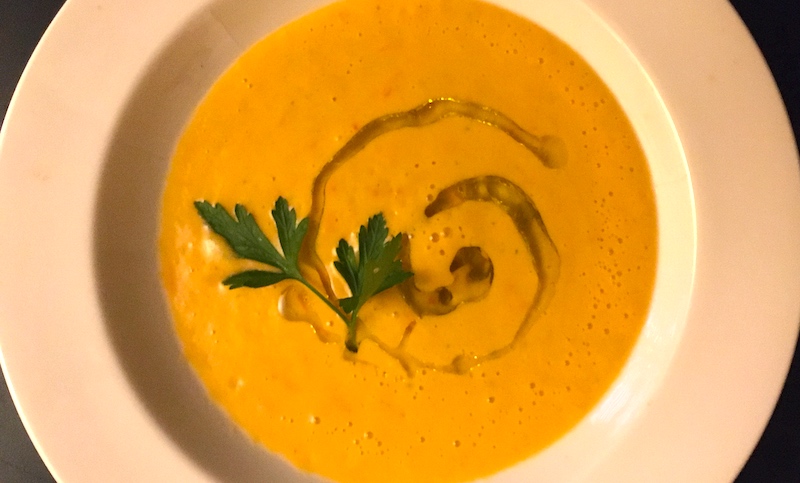 Tomato season is at its peak, cucumbers still hang heavy on their vines and peppers of all colors are finally getting the long hours of sun and heat they need to fully ripen their fruit. Cookbook author Nancy Harmon Jenkins posed the perfect solution when I found myself with all those ingredients just the other day:
"What better excuse for a bowl of chilled gazpacho for lunch? Or dinner, or an afternoon snack for that matter? In Andalusia, where this healthy bowl originates, they keep a big pitcher of gazpacho in the refrigerator at all times, ready for anyone who feels the need for a quick pick-me-up."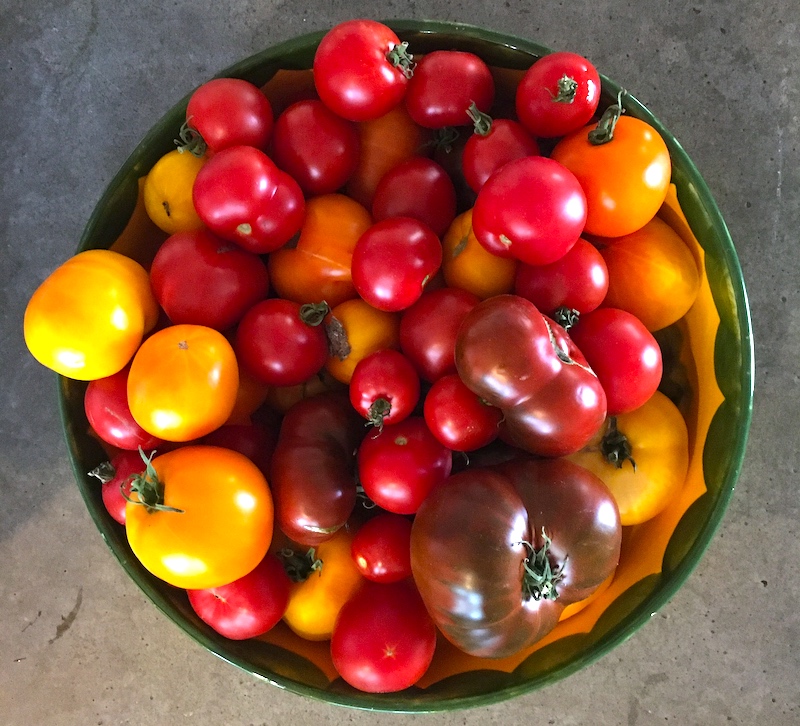 The tomatoes I had from my neighbor Bill's large garden were large and perfectly ripe, begging to be savored fresh rather than cooked, while their juices and flesh were at their sweetest. Bill had also gifted me a cucumber at the same time, and I had a few peppers from my CSA share.
Call me unimaginative, but those perfect tomatoes were golden yellow, so the idea of making a gazpacho was a slap-my-forehead revelation since I'd only had it with the usual red tomatoes. Of course it was divine, and couldn't have better suited the moment. Nancy has a recipe that I'll be trying soon, but here's a slightly simpler version based on Jim Dixon's from years ago.
Tomato Gazpacho
5 to 6 medium tomatoes, roughly chopped
1 small cucumber, peeled
1 mild green chile (Anaheim or, for a little more kick, poblano), seeded and chopped
1/2 yellow onion, roughly chopped
2 cloves garlic
1-2 Tbsp. white or red wine vinegar, to taste
1/2 c. olive oil
Salt to taste
Put tomatoes into the blender. Add the rest of the ingredients and pulse until the ingredients begin to emulsify, stopping to push the tomatoes down if they aren't moving. When they're mostly blended, add the vinegar and salt and blend until very smooth. With the motor running, slowly add the olive oil until completely emulsified. Pour into a glass or ceramic container and chill for one hour. If it's too thick to pour, add a little water, though it should be served fairly thick, not runny.
Posted on August 25, 2021