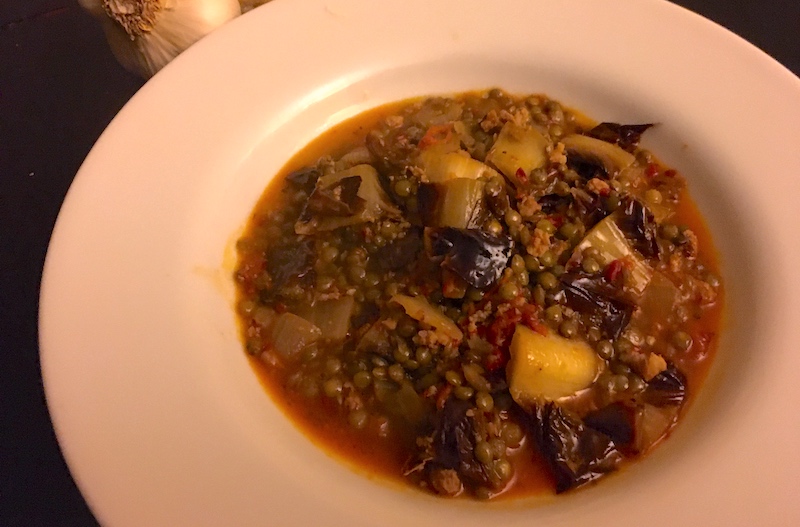 "I'm duty-bound to eat lentils on San Silvestro (New Year's Eve). Why? Because each tiny legume represents another coin added to my treasure chest in the year ahead and if I don't consume lentils, well, poverty inevitably will loom."
Writer and author Nancy Harmon Jenkins, who lives part-time in her hometown of Camden on Maine's charming coast and a portion of every year among her beloved olive trees in a tiny Tuscan village, lives my dream life. She is completely at home in both places, speaking both Downeast-ese and Italian, and is fluent in the cuisines of both, as well.
Her recent ode to the tradition of eating legumes at the turn of the year to assure prosperity in the year ahead captured me, so much so that when I saw lentils in the bulk bin at the store, I had to buy a pound to try them out.
For me, lentils always meant the brown lentils ubiquitous in every natural foods cookbook and on every hippie café menu during my young adulthood. Hearty, for sure, and marvelous when paired with a beefy stock and roasted tomatoes, I loved the flavor but wished they had a sturdier texture since, when cooked, they tended to moosh up into a dal-like consistency (not that there's anything wrong with that, as the saying goes…).
So when Nancy wrote that these lentils "are incomparably sweet and hold up well, not disintegrating when they're simmered for 30 to 40 minutes," I was all in. I had a vision of a meaty, slightly brothy stew with tomatoes (see above), but also featuring some hefty, simmered greens for color and texture. Having just processed a half pig, I used a pork stock to simmer the lentils and ground pork for the meat, but having no kale or chard in the fridge (!) I decided to use a small head of treviso in a nod to Nancy's Tuscan side.
The resulting hearty winter stew was a rich counterpoint to the blustery cold winter weather outside, and I'd recommend it for your table any time you have a need to feel prosperous, indeed.
Lentilles de Puy with Ground Pork and Radicchio
1 lb. Lentilles de Puy
1 qt. stock (chicken, pork, vegetable, whey or simply water)
2 bay leaves
2 Tbsp. olive oil
1 lb. ground pork
1 onion, chopped in 1/2" dice
1 tsp. fennel pollen
1 Tbsp. dried oregano
4 cloves garlic, roughly chopped
2 c. (16 oz.) whole roasted tomatoes
1 head treviso radicchio, sliced crosswise into 1"strips
2 Tbsp. fermented cayenne peppers or other chopped, roasted red peppers
1/8 tsp. ground cayenne (optional)
1 Tbsp. red wine vinegar
2 tsp. salt or to taste
Bring the stock to a boil and add the lentils and bay leaves. When the stock returns to a boil, reduce heat and simmer until lentils are tender, about 30-40 min. When lentils are done, strain and cool, reserving stock in a separate bowl.
While lentils cook, heat olive oil in Dutch oven over medium-high heat. When the oil shimmers, add ground pork and brown. Add onion to the pork and sauté until tender, then add garlic, fennel pollen and oregano and heat briefly. Add tomatoes, radicchio, peppers and vinegar and sauté briefly. Simmer over low heat, adding enough of the reserved stock to keep the stew from drying out too much (I used it all), at least a half hour and preferably an hour in order for the flavors to meld. Also terrific reheated the next day. Serve with a loaf of artisan bread and good red wine—preferably Italian, right, Nancy?
Posted on January 17, 2020