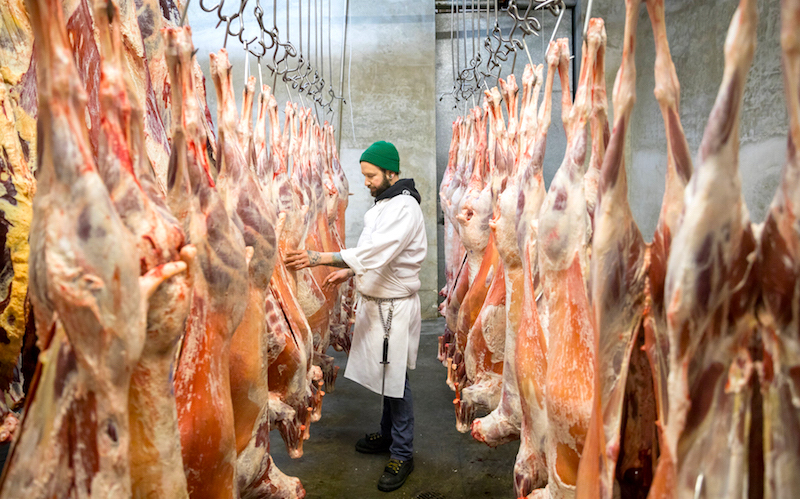 This series looks at how one small processor, Marks Meats in Canby, is transitioning from the founding owner-operators to a new generation of ownership under the name Revel Meat Company. This post was developed in collaboration with Old Salt Marketplace, a supporter of Good Stuff NW.
The first time in his life that Jimmy Serlin walked onto a kill floor was just about a year ago. It was lamb day at Marks Meats in Canby, and 60 sheep were scheduled for slaughter and processing. Intense, smelly, dangerous work, with trolleys weighing 15 pounds hanging 20 feet over his head, it could have been disastrous.
Instead, the words he used to describe it were more like those of someone falling in love.
"I was just instantly enamored," he said, and remembered thinking, "This is what I want to do."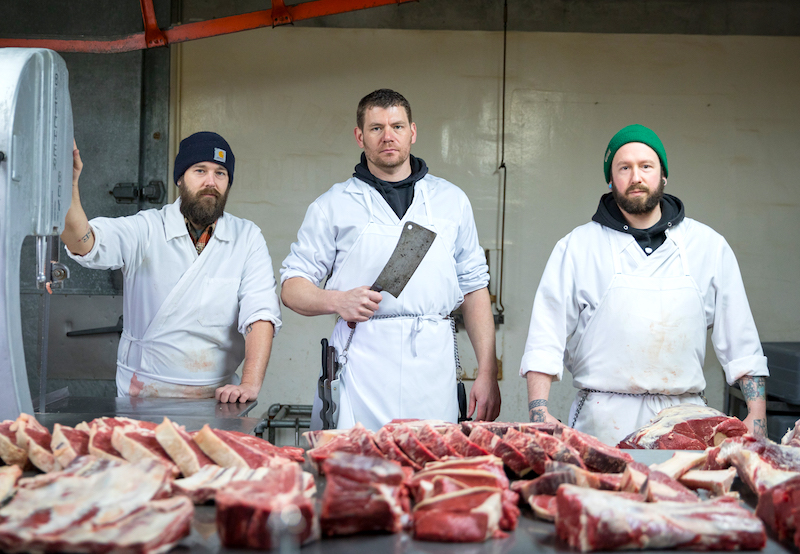 That feeling didn't diminish even though he recalls going home at the end of the week so tired and sore he walked in the house and flopped down on his bed. When his roommate came in and asked him how it had gone, he said, "I can't lift my arms off the bed."
It's tempting to paint the picture as one of the prodigal son finding his calling, since his father had owned a wholesale meat packing business in Manhattan supplying area restaurants. Young Jimmy often skipped school to go to work with his dad, helping load the trucks for tips, but he found himself more drawn to the restaurants those trucks were heading to.
So, starting as a dishwasher at 13, he began cooking on the line soon after, eventually ending up at culinary school where he became fascinated with butchery. Stints in far-flung restaurants in New York, Vermont, Colorado and California, many with his culinary school buddy Karl Holl, cemented those nascent skills. Working for well-known restaurateur Staffan Terje at Perbacco in San Francisco, a high-rolling customer named Frank offered the pair a chance to come to Oregon and work on a start-up producing naturally raised geese for foie gras.
That, of course, went the way of many high-concept start-ups, leaving Karl and Jimmy and a few friends they'd moved with to Oregon sitting on a farm they'd leased near Salem and needing to pay the rent. But being a flexible and talented group, they decided to start a pop-up restaurant and catering business called Let Um Eat, with the lofty goal of "uniting the seeders, feeders and eaters of the food revolution."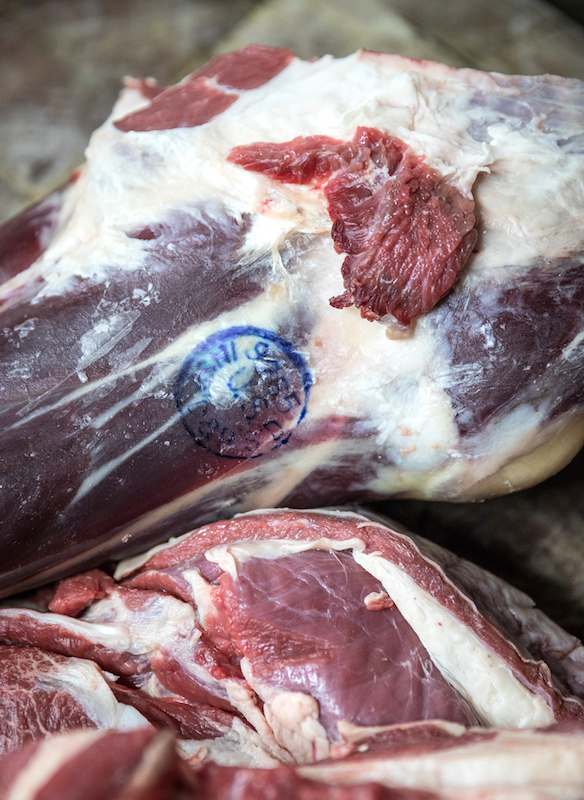 A move to a permanent location, a farm on Milk Creek near Canby, proved to be pivotal in a way the group couldn't have foreseen. They'd often stop down the road to buy steaks at a small meat processor, where Jimmy boasted to its owner, Kris Akin, about the Let Um Eat collective. "She, of course, looked us up on the internet and said, 'What the hell is Let Um Eat? You guys sound like weirdos,'" he said.
Weirdos or not, Akin saw the value in the local network they had created, especially since she needed help finding qualified employees to process the animals into sausages and cuts of meat. And because she and her husband Joe were looking to turn the business over to new owners so they could retire.
The Processing Bottleneck
It's probably a good point to "pivot," as the au courant phrase has it, to discuss some of the history of meat processing in Oregon.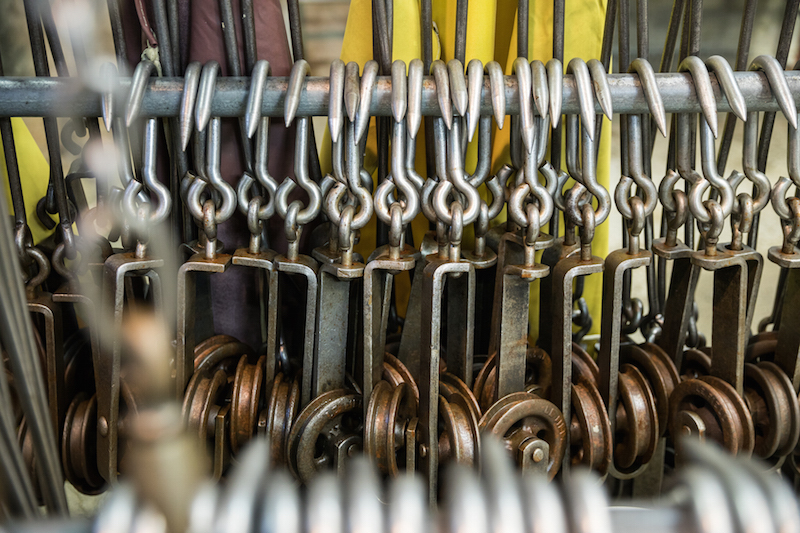 According to Akin, in the mid-20th Century there were more than 1,000 small meat processors operating in Oregon, with one in almost every small town. They served as slaughterhouses and processing plants for local farmers and ranchers, and most were regulated by the Oregon Department of Agriculture's (ODA) meat inspection program established in 1957. By 1967 the Wholesome Meat Act passed by Congress gave the USDA the responsibility of ensuring that animals were slaughtered humanely and that states maintained meat and poultry inspection programs at least equal to the federal program.
[Historical factoid: The Wholesome Meat Act, a reform pushed by consumer activist Ralph Nader in the 1960s, was known as "The Jungle, Part 2," after Upton Sinclair's book, "The Jungle," about the deplorable conditions in meat processing plants in turn of the century Chicago, resulted in the passage of the Federal Meat Inspection Act in 1906.]
At that point Oregon turned over its meat inspection program to the USDA, which meant that small processors had to upgrade to meet federal standards—an extremely expensive proposition for marginally profitable businesses—or become "custom exempt," meaning that they could only slaughter and process livestock for the exclusive use of the farmer and agree to inspection by both ODA and USDA once or twice a year.
Without access to funds to invest in updating equipment, hire skilled workers or do the marketing to find producers, not to mention consumers to buy their products, small facilities suffered. The implementation in 1996 of the Hazard Analysis and Critical Control Point (HACCP) system—establishing new requirements to improve food safety—and the simultaneous consolidation in the grocery industry were an "inflection point," according to Lauren Gwin of Oregon State University's Niche Meat Processor Assistance Network.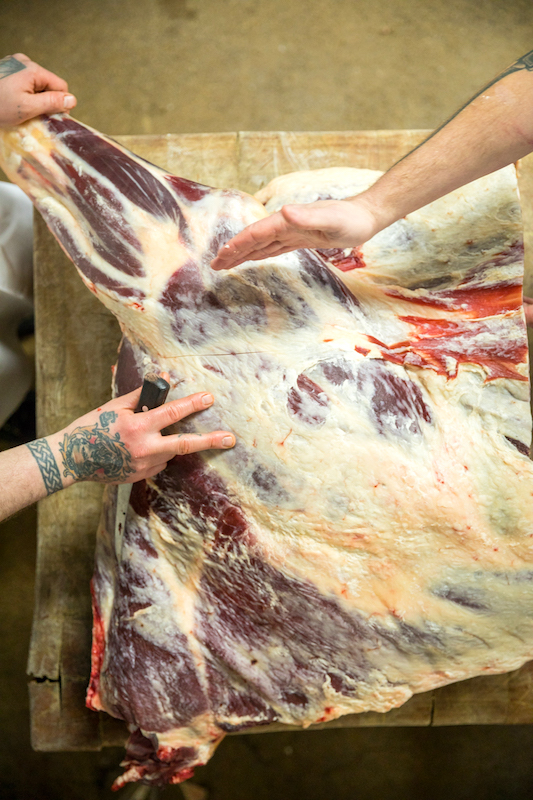 "People blame regulations, and that shift was really hard for small plants," she said. "But there were larger changes in the meat industry at the same time that were putting pressure on those small plants. The consolidation in the industry, including the shift to boxed meat, really changed things for the smaller plants."
This shift from small grocers to large supermarkets, which closed butcher departments and switched to boxes of pre-cut meat from large processors, caused many of the state's small slaughterhouses to shutter. From 2000 to 2015, mobile and custom-exempt facilities in Oregon dropped more than 30 percent, from 93 to 63, and the number of USDA-inspected slaughterhouses fell 25 percent, from 16 to 12.
Another consequence of the loss of these small processors is that farmers and ranchers have been forced to transport their animals longer and longer distances to get them slaughtered and processed, a costly and environmentally questionable practice. An article in the Eugene Register-Guard, titled "A Meaty Bottleneck," quotes a 2005 study by Ecotrust concluding that "42 percent [of growers] said they would consider raising more animals if they had improved access to meat-processing facilities."
Because pasture-raised and grass-fed meat from small farms is in increasingly high demand from consumers who want to know where their food comes from, including how it was raised, slaughtered and processed, it's critical to the health and vibrancy of Oregon's food system that small processors survive to serve them.
Read the next post in the series, an interview with Kris Akin, owner of Mark's Meats, about the challenges of passing on a family business. The third post focuses on the future of small processors in an interview with Ben Meyer, titled Upending the Status Quo.
All photos by Rich Crowder.
Posted on May 4, 2017