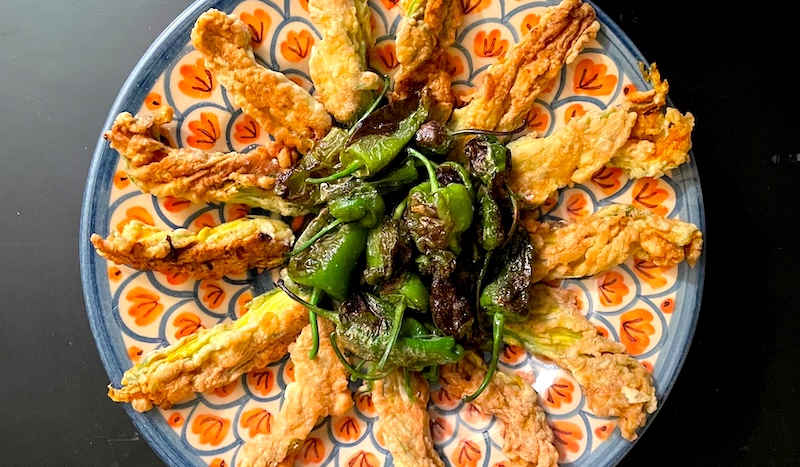 My neighbors Bill and Jen, as I may have mentioned before, have an amazing garden where, on a typical Portland city lot, they grow enough herbs, vegetables and even fruit to pretty much last them through the winter. They also ferment a fair amount of the onions, beets and cukes in their raised beds, as well as canning and smoking albacore and salmon.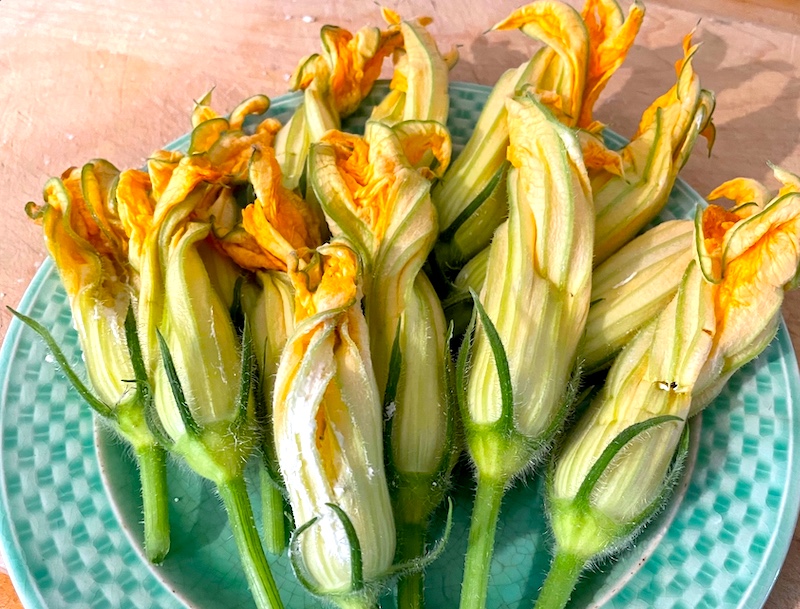 Needless to say, I'm gratified when they ask me to babysit their garden in the summer when they're out of town, harvesting whatever looks good—which is, needless to say, just about everything.
This last week they were visiting friends in Alaska who are fishing for salmon this time of year, so I was told to help myself to the beans, zukes, tomatoes and anything else that was ripening. The costata romanesco, a ribbed zucchini, my favorite type, and another variety, the rampicante, also delicious, were putting out flowers with abandon, so I snipped a dozen of the male flowers—not the ones that eventually grow a squash but are simply a flower on a stem—and brought them home.
I had a few padron peppers that had come with my CSA share from Cully Neighborhood Farm, so stuffed squash blossoms with blistered peppers sounded like a perfect snack for a leisurely happy hour on the patio. No recipe was required, just zhuzhing some cream cheese for stuffing into the blossoms, rolling them in flour and egg, then frying in hot oil. You could make a schmear with smoked fish, too, or combine herbs, chopped hot peppers and a melty cheese—think jalapeño poppers—or any other combination that appeals at the moment.
Inspiration is what this time of year is all about, so my advice is to get creative and make the most of the season. Time's a-wastin'!
Stuffed Squash Blossoms
10-12 squash blossoms
2 oz. cream cheese
1 green onion, green parts only, finely chopped
1 clove garlic, pressed (or mashed and finely chopped)
1-2 Tbsp. parmesan, finely grated
Salt
1/2 c. flour
2 eggs, whisked well
1/4 c. canola oil
In a small mixing bowl, combine the cream cheese, green onion, garlic and parmesan. Salt to taste. (As noted above, you can make the stuffing with whatever soft filling suits your fancy.)
Put the flour on a plate or flat-bottomed pan (like a cake pan or wide pasta bowl). Whisk the eggs in another cake pan or wide pasta bowl.
To prepare squash blossoms, take a paring knife and make a slit from the base to the top of one side of the blossom. Open the blossom carefully in order to remove the hard yellow anther—it is edible, so this is not strictly necessary, but I'm not fond of its texture. Then, depending on the size of the blossom, use anywhere from a teaspoon to a tablespoon to fill the base of the blossom. (It will take less than you think, and a little goes a long way.)
Fill all the blossoms, twisting the flower tops to help close the blossom, then heat the oil in a large frying pan until almost smoking (300° is the target temperature). While the oil heats, take four blossoms and roll them one at a time in the flour to coat, then roll each in the egg, then roll in the flour again. Make sure the slit in the blossom is closed so the filling won't leak out—this is why you don't want to overfill with stuffing—and place the blossoms in the hot oil. Fry until golden on one side, flip over with tongs and fry the other side. Repeat with remaining blossoms.
Shower lightly with salt and serve.
Posted on August 7, 2023